Corpnet Nellie's Small Business Corner
"Starting my own business was the best decision I have ever made… for myself…and for my family."
Nellie Akalp is a passionate entrepreneur, small business advocate and mother of four children. She devotes her time to not only building out her flourishing small business helping other entrepreneurs succeed, but also spends time packing lunches, checking homework, and changing diapers.
Nellie has perfected the balance of being a mom, the CEO of CorpNet.com, and maintaining a healthy relationship with her husband and business partner of 14 years. Through their various business ventures together, Nellie has formed more than 100,000 corporations and LLCs across the U.S.
See below for free guides, tips and resources from Nellie herself on how to start off your new venture!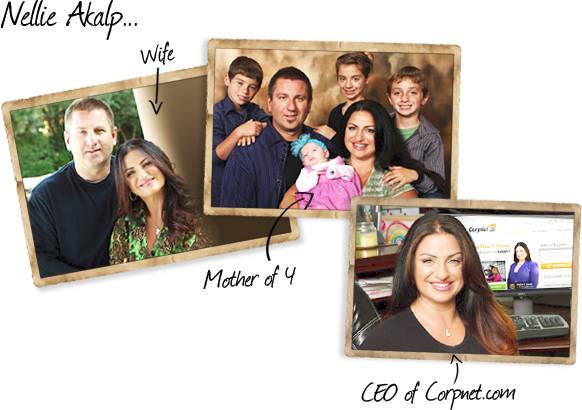 "Do what you love and love what you do each and every day…you only live once!"
—Nellie Akalp, CEO, CorpNet.com
Starting a Business with CorpNet
Where to Incorporate a Business
Start a Business Checklist
The CorpNet.com "How to Start a Business Checklist" is a FREE Guide written by business attorneys at Corpnet.com. Please feel free to link to this page or distribute this.
Free DBA Guide
This guide answers the common questions for a sole proprietor or general partnership conducting business using a special name that is different from their own name.
Free Incorporation Guide
This Guide discusses common business structures such as the corporation, the LLC, and Sole Proprietorships and the benefits of incorporating a business such as corporate taxation, limited liability.
Free LLC Guide
This guide covers the definition of an LLC, the benefits of an LLC, including Limited liability, fewer formalities, pass-through tax treatment and flexible allocation of business profits and losses.
Connect With Nellie
Can't find the info you're looking for? Send Nellie a question!
Press Center
Press Features