The CorpNet team is here to help you every step of the way. From personalized assistance to automated tools, we've got your back.
Ongoing Partner Support
Dedicated account manager
White label offering
Onboarding and personalized support throughout program usage
Worry-free business filing and compliance monitoring
Economical services for clients
Proactive alerts and filing due dates from CorpNet's online Compliance Portal
Easy access to view and print official documents.
CorpNet Compliance Portal
The Compliance Portal is a free tool that will send you reminders of important due dates and business filings such as deadlines for tax filings, annual reports due, and so much more helping entrepreneurs keep their business compliant with state filings to avoid rising late fees and penalties!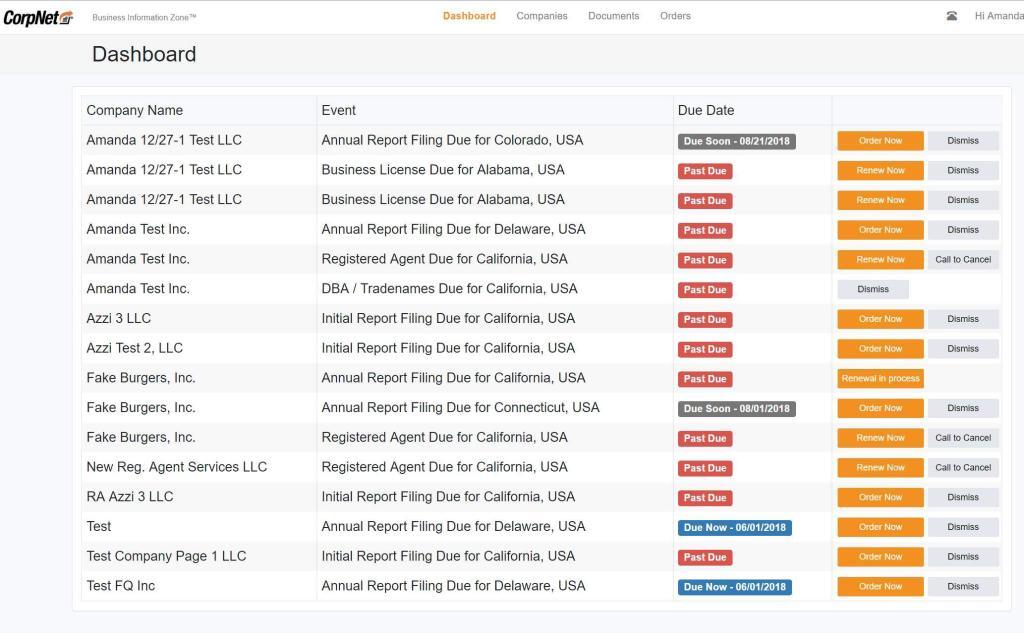 That's where CorpNet's Compliance Portal comes in. Complimentary to any new or existing small business owner, attorney, or accountant/CPA, CorpNet sends personalized email alerts for important tax and state filing deadlines. As a result, small business owners don't have to worry about missing due dates, paying late fees, or risking non-compliance by forgetting to file. The service is available at no cost to any company, whether or not it was formed by CorpNet.
CorpNet.com's offers the following concierge services:
Email alerts letting you know whenever important compliance filings are due with your state
Personalized tax alerts reminding you of important tax deadlines throughout the year
Secure online storage to keep all your essential company documents organized, safe, and always accessible
Personalized business profile that tracks all the important data about your company like formation date, Federal Tax ID number, business licenses and permits, and more
An interactive ordering center that makes it easy to find what you need when you need such as obtaining a Federal TAX ID number, electing S Corporation status, obtaining a business license or permit, making changes to your company name or address information (articles of amendment), doing business as a different name (DBA or fictitious business name filing) doing business in multiple states (foreign qualification filing) changing your existing company structure (Conversion) closing a company (also referred to as Dissolution) and ordering additional products and services for your existing business online (whether or not you originally formed the company through CorpNet) at a click of a button without going through a tedious ordering process. Whether you need to get a business license or file a DBA,  incorporate a business, or form an LLC, you can do it right your account, instead of having to navigate different websites like the state, county, IRS, or franchise tax board.