If you've always wanted to start a trucking business, now could be the perfect time to put your plan into action. The trucking industry has had an immense impact on the U.S. economy. According to American Trucking Association, 71% of the freight tonnage moved in the United States goes on trucks.
So how do you become part of this booming industry? Whether you've been a driver for another company and want to begin as an owner-operator, this article will offer insights that can help you work toward achieving your goals.
Determine Staffing Needs
There are a couple of different ways to begin your trucking business:
Sub-contractors – One is to run your business using sub-contractors as drivers. Subcontracted drivers have their own trucks, so you don't need to lay out capital for the vehicles. The drivers are also responsible for maintaining and insuring their trucks, all of which save you time, money, and hassle. You won't have to provide drivers with benefits, either, but you may need to pay them higher wages than in-house truckers to make up for their higher costs. You'll also have less control over the drivers and may face challenges finding drivers to fulfill contracts during times of high demand.
Employees – The other way to run your trucking business is by using your own trucks and hiring drivers as employees. You'll pay more to start up and operate this type of trucking business, but you'll have more control since the drivers are employees. You won't have to worry about finding drivers—instead, your concern will be keeping all of your drivers busy.
Single Driver – You can even start as a one-person business by doing your own driving. "Driving your own truck is the best way to start your own trucking company," says Marty Burnham, president of Hercules Forwarding Inc., a Vernon, CA-based trucking transportation company. "Many rags-to-riches stories out there—CRST, England Trucking, Werner Enterprises—all started with one truck and are now billion-dollar companies. You'll need to be certified by the state with a commercial driver's license, but it is your best option."
To cut startup costs, Burnham suggests buying a used truck with low mileage to start out. Check with your state's air resources department for regulations regarding filters and other technology required to reduce vehicle emissions. Another option is to lease your trucks instead of purchasing them; this can reduce your initial cash outlay. The type of customer you plan to target will affect the types of vehicles you need. Hauling cars, scrap metal, livestock or produce all require different types of trucks. For instance, if you'll be working with food manufacturers, you'll probably need a refrigerated truck.
Learn More: Registering for Payroll Taxes
Create a Business Plan
To create a viable business that has a long-term future, you need to start with a business plan. A detailed business plan is an essential tool for getting financing as well as a useful roadmap for your startup. By writing a business plan, you're forced to think through every step of getting your business off the ground. A business plan serves as a roadmap of sorts. It captures information about who the trucking business will serve, the services it will provide, how it will be managed, the ways it will be marketed, what its expenses will be, what its expected financial outlook is, and more.
A few of the details to sort through as you're building your business plan include:
Operational and administrative details – Who will manage your business? Who will handle your customer service, billing, and sales and marketing tasks? Do you need to hire employees or find independent contractors to assist you?
Start-up expenses –The costs to start a trucking company will vary. They will depend on how what business entity the company will operate as, the state where the business will be registered, whether the company will be hauling freight intrastate or across state lines, trucks and equipment that need to be purchased, and more.
Ongoing expenses – Of course, trucking companies incur costs to stay in operation, too. Examples of some of the possible expenses that come with owning a trucking business include truck and trailer lease payments, license plate fees, fuel, inspections, maintenance, repairs, various licenses and registrations, insurance, staff, filing fees, and legal and accounting services.
Sales and revenue projections – Just as getting a handle on the costs of running a trucking business, entrepreneurs also need to assess their earnings potential to ensure they can become profitable in a reasonable amount of time.
There are many tools online that can help you create one. Do a simple search and you'll find several options. Basically, your business plan explains what your business will do and what makes it unique, defines your target market, introduces your management team, explains your marketing plan, assesses your competition, projects how much money you'll need and how much you'll make, and how you will accomplish all of your goals. The most important part of the business plan is the executive summary, which sums up the entire plan in a page or so.
Select a Name for Your Business
The name you choose for your business will serve to distinguish you from your competitors and give customers insight into the experience they will have with your company. After business owners have brainstormed some names for their trucking business, CorpNet's free business name search tool will help in checking if the desired name is already in use in the state.
If a Sole Proprietor or Partnership wants to use a business name that doesn't include the owners' first and last names, they must file a DBA (doing business as). Also known as a fictitious name, a DBA registers the name with the state and puts the ownership on the public record. This is a way to provide transparency and ensure consumers know who owns and operates a business.
Entrepreneurs who envision eventually expanding their company (for example, opening an office in another state), may also want to do a trademark search to see if the name is available throughout the United States.
Learn More: Business Name Restrictions
Formally Register Your New Business
Whether a business owner chooses to operate as a Sole Proprietorship, Partnership, Limited Liability Company (LLC), C Corporation, or some other form of entity type, it will affect personal liability, tax obligations, and other aspects of the trucking business.
For many business owners, the issue of personal liability is a significant factor. With Sole Proprietorships and Partnerships, no legal or financial separation exists between the owners and the business. Therefore, the business owners are personally liable for the debts and legal issues of their business. With statutory entities such as LLCs and C Corporations, however, the company is its own entity. Therefore, the owner's personal property and finances are not at risk of being taken in the event of a lawsuit filed against the business (unless the owner was personally responsible) or if the company runs into financial hardships.
How income taxes are applied also often influences the decision of which business structure is best. Sole Proprietorships, Partnerships, LLCs, and C Corporations that file for S Corporation tax treatment get pass-through taxation. In other words, profits from the business flow through to the owners (or shareholders) of the company and get reported on the owners' individual income tax returns and taxed at the applicable individual tax rates. C Corporations that do not opt to be taxed as an S Corporation are taxed at the corporate income tax rate and undergo something known as "double taxation." Double taxation refers to the fact that a corporation's profits are first taxed at the corporate rate and reported on the corporation's tax return. Then, if the corporation distributes dividends to shareholders, those distributions are taxed again on each shareholder's personal tax statement.
Other details to think about include:
Future financing needs – Some lenders and investors will want a business to be formally registered as an LLC or C Corporation before they'll consider funding a company.
Compliance complexity – C Corporations have more formation requirements (such as establishing a board of directors and adopting bylaws) and ongoing filings to complete and submit than other entity types.
CorpNet's Business Structure Wizard can help narrow down what options might be the best fit, and I recommend talking with an attorney and tax advisor, too.
Something for anyone interested in creating a trucking company should know is that there are laws that prevent registering a trucking company outside of where its primary home is. Some entrepreneurs opt to form their companies in a state other than their home state due to more favorable business laws or tax rates, but trucking businesses may not. According to the Federal Motor Carrier Safety Administration's Application for USDOT Number:
"Principal Place of Business — Enter the physical address of where the company is engaged in business operations related to the transportation of persons or property and where safety records are regularly maintained. This address will be used by FMCSA for on-site visits to Motor Carriers for the purpose of conducting safety audits, investigations, and other activities. A P.O. Box is not acceptable as a Principal Place of Business, nor is the address of a consultant, service agent, or attorney of a Motor Carrier unless the Motor Carrier engages in operations related to the transportation of persons or property at that location."
Obtain an Employer Identification Number
Most banks will require an Employer Identification Number (EIN) from the IRS before they will open a business bank account for a company. Also, trucking businesses that will hire employees will need to have an EIN. An EIN is a nine-digit number that a business uses on its tax filings and other business documents.
Learn More: How to Apply for an EIN
Review Trucking Rules and Regulations
Besides the general federal and state licensing requirements, trucking businesses must comply with industry-specific tax, license, and permit regulations. The obligations may vary depending on the type of activities the company engages in. Below are examples of some common requirements:
Obtain a CDL (Commercial Drivers License) – Any truck drivers working for the company will need to get a CDL from the state driver licensing agency in their state of residency.
Register for a Federal DOT Number –  The Federal Motor Carrier Safety Administration issues USDOT numbers, and the U.S. Department of Transportation uses them to collect and monitor a trucking company's safety information, including inspections and accident investigations. The USDOT website provides details about when vehicles in intrastate commerce will need a USDOT number. Each commercial motor vehicle used in interstate commerce must have a USDOT number. Trucking companies can apply for them through the FMCA's Unified Registration System.
Apply for Operating Authority – For-hire freight carriers and those that transport (or arrange for the transport of) federally regulated commodities in interstate commerce must apply for an MC Number (Motor Carrier Authority Number) through the FMCSA. Operating Authority (sometimes called "Trucking Authority") gives a trucking company permission to transport freight across state lines. To obtain operating authority, FMCSA requires trucking companies to provide proof of liability insurance.
Sign up in the Unified Carrier Registration (UCR) system – Companies (or individuals) that operate commercial vehicles in interstate or international commerce must register in a state that participates in the UCR program and pay an annual fee (which varies depending on the size of the fleet).  If a trucking company's home state isn't a participating state, it must register with UCR in another state that does participate.
Pay Heavy Vehicle Use Tax – Trucks that weigh more than 55,000 pounds are subject to this tax. Trucking companies must file an annual Heavy Highway Vehicle Use Tax Return and remit the applicable tax for their fleet. The costs range from $100 to $550 per year per vehicle.
Designate a Process Agent – Trucking companies must designate a process agent in each state where they have an office or establish contracts. Some process agents offer coverage in all 50 states, which is helpful for trucking businesses that operate in multiple states. Process agents are used in the event that court papers are served to the trucking company in a state other than the one its business is registered in. FMCFA's form BOC-3 (Designation of Process Agents) is used to name Process of Agents for each state.
Register for the International Registration Plan (IRP) – The IRP is an agreement among the U.S. states, the District of Columbia, and Canadian provinces, which provides for payment of commercial motor carrier registration fees. IRP distributes registration fees to states and provinces based on the miles traveled in each state or province. Trucking companies that will operate in multiple states or provinces must register in their home (base) state.
Obtain International Fuel Tax Agreement (IFTA) Permit and Decals – IFTA is an agreement between the lower 48 states of the U.S. and Canada's provinces that simplifies motor carriers' fuel use and tax reporting. The quarterly reporting and tax payments apply to carriers who drive in multiple states and/or across Canadian provinces. The International Fuel Tax Association, Inc. then distributes tax revenues to the individual states and provinces.
In addition to the list above, individual states may have their own trucking company registration requirements.
Obtain the Right Insurance
If you're trying to start your trucking business by registering your commercial business, you'll need to obtain operating authority (an MC or motor carrier number). However, the Federal Motor Carrier Safety Administration (FMCSA) requires you first get public liability insurance with coverages for both bodily injury and property damage. The FMCSA monitors and ensures compliance with motor carrier safety (all carriers) and commercial (for-hire, non-exempt carriers) regulations.
As far as insurance amounts, the government sets minimums, but shipping customers themselves often have higher minimums.  "A new trucker might get an unwelcome surprise if Customer XYZ wants $1 million or $5 million coverage, and they have only the government minimums," says Burnham. To protect your trucking business, check for interstate insurance requirements on the FMCSA website.
Locate Your First Client
To get your trucking business on the road with that first customer, you'll most likely need to start small. Here are some ideas to get you started:
Start by reaching out to local businesses that need transportation services.
Attend networking meetings and join social networking groups your target customers belong to.
Reach out to prospective customers by attending trade shows for their industries.
Once you get your first account, you'll need to deliver standout service. Be specific as to what you can and cannot do. "It doesn't do anyone any good to overpromise and underdeliver," Burnham notes. By law, truckers can only drive 10 hours a day, so be careful when promising delivery dates and times. The key is to be reliable and gradually build up a base of clients that can refer you to new prospects and vouch for your abilities. You may have to bid low for contracts at first to get your foot in the door. However, know your margins and be ready to charge more once you've proven your worth.
Step on the Gas and Start Your Business!
For those who love the lure of the open road and want to be their own boss, a trucking company can offer the perfect combination of freedom and financial success. CorpNet's team is here to help you with your business registration filings, serve as your registered agent, and ensure your ongoing business compliance filings are submitted accurately and on time. Our filing experts will save you time, money, and hassles so that you can shift your business dream into gear. Contact us today to get started!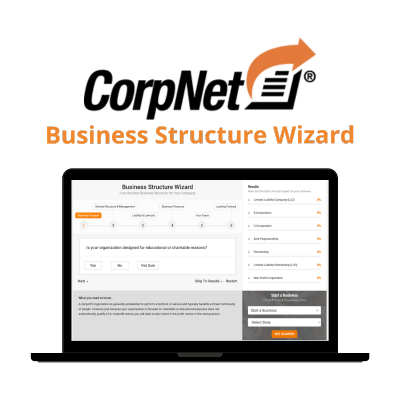 Choosing a business structure can be a tough decision for the new business owner. CorpNet wants to make the process easier.
This free, online tool helps small business owners navigate the process of picking the right business structure for their new business.