Tutoring has the potential to be a lucrative side gig or a very flexible full-time career. Which of those you achieve depends on your professional and lifestyle goals, as well as, how successful you are at launching and managing a business. If you'd like to learn how to start a tutoring business, this article is for you. We'll review who would make a good tutor, in-demand subjects, advantages, disadvantages, and the steps you need to take to get your new business launched.
Who Would Make a Good Tutor?
Naturally, tutoring is a wonderful fit for teachers and other instructors. But that doesn't mean it's for everyone or that you need a teaching degree or specialized training to be an effective tutor. Tutors employed by school districts must often be licensed, but private tutors are not regulated and don't need to be licensed. Although starting a tutoring business doesn't require a special certification (such as from the National Tutoring Association or American Tutoring Association), having one could offer additional credibility.
Three of the most important qualities for tutors to have are:
Knowledge of the subject matter that will be covered
Ability to explain the information clearly so that others can learn it
The capacity to tap into how each student learns best so you can adapt your tutoring style to help each individual get the most from their sessions
As a tutor, you can help your clients in a variety of ways:
Improve their understanding of the subject matter
Improve their confidence
Improve their academic performance
Develop good study skills
Prepare for exams
Learn career skills
Any subject in which students struggle could be the focus of tutoring. Some common tutoring subject matters include:
Math – This includes elementary all the way through college-level math
Science – This can include physics, chemistry, and earth sciences like geology, astronomy, or astrophysics
English – This includes traditional English and English as a Second Language (ESL)
Foreign languages – Spanish, French, and Mandarin are the most popular
College admissions tests – This can include the SAT, ACT, or CLT
Advanced degree programs tests –  This can include testing for LSAT, MCAT, GMAT, or GRE exams
Professional certifications – This could include testing for CPA, CFA, CAPM, PMP, or PHR exams
Pros and Cons of Tutoring as a Business
Advantages of being a tutor:
Universally needed – It's a service for which there will always be a need.
Affordable – Comes with low startup and ongoing overhead costs – can be operated from home and doesn't require costly certifications or special equipment.
Flexibility – You can tailor the business to your areas of expertise. You'll also enjoy flexibility in when and how you conduct sessions: either meeting clients at your location, the client's home, at a mutually agreed-upon neutral location (library or coffee shop), or even via the internet.
Scalability – If you want to expand your revenue, you can bring on other tutors as sub-contractors to accommodate higher demand or specialties you don't cover.
Builds rapport with the local community – By being a resource that supports the educational performance of students in your area, you'll have an opportunity to make connections with other professionals and business leaders in your community.
Disadvantages of being a tutor:
Potential Scheduling Issues – It may become challenging to work around students' classes, activities, and job schedules. You might find yourself working on evenings and weekends more than is desirable.
The clientele is a revolving door – Generally, people need tutoring for only a limited time. So you may discover you have to pay ongoing attention to marketing yourself and encouraging referrals.
Potential liability risks if meeting with students at your home – In the event of a slip or fall injury or another mishap, you could put yourself in legal jeopardy.
Possible feast and famine cycles – Your business may experience some seasonal highs and lows. You might find your workload increases during the school year and decreases significantly during school breaks and the summer.
How Much Do Tutors Earn?
The rates that private tutors charge vary significantly. If you do an online search, you'll likely see hourly rates ranging from about $10 to $85, with the average rate in the United States being about $24/hour. Some tutors are even charging between $180-$200 per hour, but that is outside the norm.
How much your clients will be willing to pay will depend on numerous factors including but not limited to:
Your level of expertise
The subject matter
The geographic region where you're offering your services
How many students you're tutoring in a session
Your ability to market yourself or gain referral business
10 Steps to Start a Tutoring Business
Decide on your niche –  Think about what subjects are you good at and enjoy. Think about who would be your target audience. Determining what you'll be teaching and to whom will enable you to zero in on what knowledge and skills you want to fine-tune so that you can provide superior service.
Identify how you'll provide your services – Think about whether you want to only tutor clients in person in your local area or use video conferencing tools to offer your services to students across the country. Your decisions will lead to other choices like the equipment you'll need to buy or software you'll need to use.
Estimate your startup and ongoing costs – This is a critical step before deciding how much you'll charge for your services as it may affect how much you need to make to build a profitable and sustainable business. Consider your costs for supplies, marketing, computer, phone, legal and accounting fees, subscriptions and memberships, gas and vehicle expenses, licenses and permits, certifications, and anything else that will affect your bottom line.
Determine your pricing – As I mentioned earlier, your expertise and other factors will influence this. Do some competitive research to find out what other tutors in your market with similar backgrounds, specialties, and experience are charging. Don't sell yourself short! Keep in mind that it's easier to decrease rates if a client wants to negotiate than it is to raise them. If you start out lower than you deserve or than other tutors with comparable knowledge and experience charge, you may set the impression that you're not good at what you do.
Write a business plan – Don't panic! This doesn't have to be a daunting exercise. After you've worked through the four steps above to determine what your business will focus on and what your potential revenue and costs might be, create a business plan to serve as a road map for how you intend to run your business and grow it. A business plan doesn't have to be 50 pages long; it can be a simple and straightforward document that lets you capture your business vision and regularly assess if you're on the right path. Realize that a business plan is a living, breathing document that can be updated and tweaked as your tutoring business evolves.
Name your tutoring business – CorpNet's free business name search tool can help you check to see if your desired name is already in use. Note that if you decide to operate as a sole proprietor and want to use a business name that doesn't include your first and last name, you will need to file a DBA (Doing Business As), also known as a fictitious name.
Decide on your business's legal structure – CorpNet's Business Structure Wizard can help you with this, and I recommend talking with an attorney and tax advisor, too. The business entity type you choose will affect your personal liability, tax rates, and administrative complexity. Keep in mind that registering as a formal entity such as a Limited Liability Company (LLC) or C Corporation offers personal liability protection whereas operating a Sole Proprietorship does not.
Register your business with the state – If you decide to form an LLC or incorporate your company, you will need to submit the necessary paperwork with the state where your tutoring business will be based. This is an important step for the viability of your business, so don't skip it. By registering your business you'll be able to protect your personal assets, open a business bank account, and present yourself in a professional manner to prospective clients.
Obtain licenses and permits –  Many tutors run their businesses from their homes. Depending on your municipality, you might need a permit to do so, especially if you plan to tutor students at your home. To determine what business licenses and permits your business might need, CorpNet can do the research for you.  If you provide tutoring services under contract for a school district or other educational institution, you might also have to meet certain licensing or certification requirements.
Prepare to market your business – Consider how you'll raise awareness of your services and reach prospective clients. Most people look online for products and services, so building a robust digital presence can help you gain exposure. A website and social media accounts (provided you can give them the attention they need) are good tools for building online authority and ensuring people looking for tutoring services can find you. Local SEO with Google and Bing is also important. And don't underestimate the power of face-to-face networking with others in the educational industry who might refer clients to you.
Ready to Get Started?
CorpNet is here to help you start your tutoring business no matter where you're located in the United States. We can prepare and file your business registration forms on your behalf, submit your applications for business licenses and permits, help you stay up to date with all your ongoing business compliance requirements, and more. Our business document filing specialists will save you time and headaches. And our services are an affordable alternative to paying attorneys' fees for filing and submitting paperwork.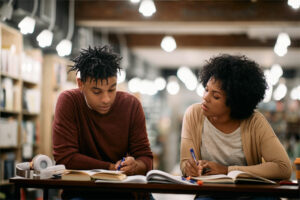 Business Structure Wizard
This easy-to-use online tool will help you navigate the process of picking the right business structure. Just answer a few basic questions and the free tool will recommend the optimal company structure and provide the next steps to get you started.