Many entrepreneurs begin successful companies without piles of money in the bank. In fact, some businesses can get off the ground with $10K or less. So, if you're dreaming of being your own boss but have limited funds, keep your chin up! In this article, I'll touch on some low-cost business ideas to consider, how to start a business, what costs to expect, and tips for starting a business on a shoestring budget.
Low Startup Cost Business Ideas
Here are some types of entrepreneurial endeavors that can typically be launched without a lot of cash. Some require specific talents, while others can be taken on by just about anyone with the drive and determination to learn and hone their knowledge and skills. I hope these ideas will help spark your creativity and get you thinking about what skills and talents you might transform into a lucrative business opportunity.
1. Event Planning
Event planners are a lifeline for busy clients with the money but not the time to create exceptional experiences. By handling all the details for events, such as weddings, birthdays, graduation parties, retirement celebrations, business conferences, and more, they offer a valuable service.
What skills and characteristics are helpful for being an event planner?
Top-notch organizational skills
Detail-focused
Excellent communication skills
Deadline-oriented
Strong interpersonal skills for building relationships with local vendors, including caterers, venue managers, florists, etc.
2. Virtual Assistant
Many companies have reduced the headcount in their offices to save money. But businesses still need someone to field phone calls, monitor emails, set appointments, and handle an array of other administrative tasks. Virtual assistants can fill that void. Companies benefit from contracting a virtual assistant because they don't have to pay a full-time salary or provide benefits.
What does it take to be a virtual assistant?
Exceptional organizational skills
Detail-oriented
Strong communication skills
Versatility
Knowledge of and proficiency in a variety of software applications — e.g., Microsoft Office and collaboration software (like Trello, Google Drive, and Microsoft Teams)
3. Concierge and Errands Services
From working parents to elders who can't get around as well as they used to, many people could use help picking up items from the store or pharmacy or taking on other tasks, such as taking their car in for inspection, sitting at their home while awaiting a refrigerator repair person, etc.
What traits should a concierge professional possess?
Good people skills
Resourcefulness
Reliability
Excellent time-management skills
Strong communication skills
4. Artisan
Fortunately for artistic and crafty individuals, it's possible to sell hand-crafted products to a target market beyond their local areas. Websites like Etsy, Shopify, and Amazon make it easy to establish an online store without the expense of setting up your own e-commerce website. Keep in mind that those platforms charge fees for listing products, sales transactions, and payment processing. However, they can serve as a viable avenue for ramping up a brand's reputation and establishing a loyal customer base.
What skills and qualities should an artisan have?
Artistic talent in their niche
Productivity-oriented
Good sales skills
Strong interpersonal skills
5. Bookkeeping
Starting a bookkeeping business may appeal to people with a knack for math and a love of numbers. Companies rely on their bookkeepers for keeping track of their financial transactions and making sure everything is recorded correctly. Typically, bookkeepers do not need a special degree or certification to provide their services to clients.
What qualities does a successful bookkeeper need?
Good math skills
Detail-oriented
Familiarity with using cloud-based financial software, such as QuickBooks Online, FreshBooks, Sage, and others
Attention to deadlines
6. Freelance Creative Services
Are you an accomplished photographer, graphic designer, or copywriter? Then offering your services on a freelance basis could prove a lucrative business venture. Keep in mind that quality does matter — not everyone is suited for this type of business. Clients will typically look for someone with some education, training, or prior experience before hiring a freelance creative professional.
What traits help self-employed creative professionals succeed?
Skilled in their specific area of expertise
Ability to channel their talents to meet clients' needs and specifications
Excellent time management skills for meeting client deadlines
Well-organized
Strong communication skills
7. Pet Sitting
People adore their pets and want peace of mind that someone trustworthy will care for them during weekends away and vacations. If you love animals and have a flexible lifestyle that will allow you to be away from home to pet-sit for clients, this business idea could be an excellent fit.
What characteristics are the hallmark of a good pet sitter?
Understanding of pet behavior and health needs
Patience
Flexible schedule
Good time-management skills
Strong communication skills
8. Dog Walking
What if you enjoy animals but can't commit to spending days away from your home? Then a dog walking business might be a good choice for you. Busy people with long workdays and individuals with physical disabilities often need someone to rely on to get their dogs out for regular exercise.
What traits will help someone operate a successful dog-walking business?
Good time-management skills
Understanding of dog behavior and health needs
Some knowledge of dog training techniques
Patience
Strong communication skills
9. Residential Cleaning Services
A cleaning business has lower start-up costs than many other types of businesses. Moreover, it provides a valuable, in-demand service for time-strapped homeowners who struggle to find time to clean their houses and people with medical conditions or physical limitations.
What qualities do cleaning professionals need to succeed?
Strong work ethic
Ability to perform physical labor
Good time-management skills
Reliability
In addition to the general necessities we touched on earlier, this type of business will also require cleaning supplies and equipment — unless the customers agree to let the business owner use what they have at their homes. Also, some customers may prefer a cleaning person who is insured and bonded for property damage and liability.
10. Home Repair
If you're handy and have basic plumbing and other home maintenance skills, starting a home repair services business might be your lane. Many homeowners lack that knowledge and need a trusted contractor for help when something goes awry.
What attributes should a home repair services professional possess?
Strong desire to complete projects
Ability to perform physical labor
Good time-management skills
Willing to get the required licensing and insurances for doing handyman work or specific types of work (e.g., electrical)
Besides the business necessities we talked about earlier, home repair specialists will need tools to perform their work and building supplies (for which they can likely pass some of the costs on to their customers).
11. Residential Painting Services
People who've discovered a talent and passion for painting their own homes might consider making a career of it by starting their own residential painting business. Before pursuing this business idea, think about whether you would like to handle interior or exterior projects — or both.
What qualities are important in a painting contractor?
Strong work ethic
Attention to detail
Neatness
Ability to meet deadlines without compromising work quality
Ability to perform physical labor
Willingness to get licenses, permits, and insurance — if required
Painters must have tools to perform their work — brushes, paint, tarps to protect floors, painting tape, cleaning solution, etc. — so it's important to factor that into planning this type of business.
How to Start a Business With $10K
Generally, the steps for starting any business are similar. However, they may vary depending on the industry, type of business, where the company is located, and where it provides its products and services. States, counties, and cities have different rules and requirements for businesses that operate in their jurisdictions.
I encourage you to refer to the starting a business free checklist my team has created as a guide for aspiring business owners. It delves into the main steps most entrepreneurs must take when setting up their businesses.
Common steps for starting a new business include:
For specific information about what's required, contact your state and local government agencies that oversee business activity. It can also be helpful to consult with an attorney and accountant for legal and tax advice.
Basic Costs to Start a Business
Regardless of the business idea, most entrepreneurs need the various essentials I've listed below — and possibly others. Some of the items have a one-time cost, while others are charged monthly, quarterly, or annually.
As you can imagine, prices for these things vary depending on what you get, where and from whom you buy them, and other factors. If entrepreneurs are resourceful and savvy — leveraging what they already have and shopping smart — they can likely get what they need and stay within a $10k or less budget.
Here are common business expenditures:
Laptop computer and internet access
Mobile phone and cellular phone plan
Website, business cards, social media accounts
Accounting software (to invoice customers and track financial transactions)
Reliable transportation
Project management software
Printer
Office furnishings and supplies
Entity formation
Business licenses and permits
Business Insurance
My Top Tips When Starting a Business on a Shoestring Budget
Consider a home-based business – With all of the business ideas above, client consultations and meetings could typically be handled at the customer's location or another suitable place. Running a home-based business cuts out the expense of renting or buying office space.
Compare prices on everything before you buy – If you're on a tight budget, it pays to shop around and look for the best deals. But consider quality, too. Services and products with the lowest price tag may not offer the best value. Ask other entrepreneurs in your industry for recommendations and read customer reviews.
Use effective and cost-efficient marketing tactics – Email marketing, social media marketing, blogging, and networking can help you reach your audience without spending excessive funds. Spend wisely when creating your website; if you don't need all the bells and whistles right out of the gate, resist going overboard if you can't afford it.
Build your reputation by leveraging online reviews – You can gain trust and credibility relatively quickly by encouraging your customers to leave online reviews of your products and services. Of course, that means you must provide an excellent customer experience — which should be the goal anyway, right? Google Reviews and Facebook Reviews get a lot of attention, so those two platforms can be especially beneficial. Before requesting customers to leave a review, view the terms and conditions of the review website to make sure they allow you to ask for reviews proactively. Some sites, like Yelp, have terms of service that prohibit businesses from prompting customers to leave reviews.
Keep your business and personal finances separate – Regardless of a business's size, it's preferable to set up a bank account to be used exclusively for the company. Mixing personal and business monies can create some big headaches—particularly at tax time when you're trying to sort out your business deductions and complete your tax returns. And business owners that have formed an LLC or corporation MUST keep their business finances separate from their personal funds.
Protect your investment by forming a Limited Liability Company (LLC) – While operating as a Sole Proprietorship requires no business registration forms or fees (aside from a DBA if you want to use a fictitious name for your business), it offers no protection of a business owner's personal assets (home, vehicle, checking accounts, retirement savings, etc.). That's because there's no legal separation between the business and its owner in a Sole Proprietorship. Forming an LLC offers much of the simplicity of operating as a Sole Proprietorship but with the personal asset protection of a Corporation. It's helpful to consult with an attorney and tax expert for guidance when setting up an LLC. But fortunately, there's no requirement to have a lawyer file business formation paperwork. Instead, consider using CorpNet's LLC filing services – which can save you a considerable amount of money.
Make sure you get the required licenses and permits – Depending on the type of business you operate and where you operate that business, you may need state or local licenses or permits to legally offer your products or services. While licensing and permits will cost you some money (upfront and renewal fees), it will cost you way more in fines and other penalties if you ignore the requirements.
Get guidance from trusted small business resources – Fortunately, new small business owners can find expert advice and feedback from various national nonprofit organizations. SCORE, a nonprofit of more than 13,000 volunteers nationwide, offers free mentoring for entrepreneurs. The Small Business Administration (SBA) also offers small-business counseling and training. Small Business Development Centers (SBDC), hosted by universities and state economic development agencies, provide services to help small businesses grow and expand. State, regional, and local chambers of commerce are another resource new business owners can tap for their various networking, educational, and professional development programs.
Seek funding – If you find your available funds aren't enough to launch your company and keep it running as you build your business, you might want to explore financing options, such as SBA loans or SBA grants, crowdfunding, other grants (such as those through SBDC, the state, or local community organizations), bank loans, or funds from angel investors.
My team at CorpNet is here to help! We've worked with tens of thousands of business owners, helping them complete their business filings as cost-effectively as possible to keep costs down. Reach out to us to discuss your needs and explore how we can help you stay on budget as you make your entrepreneurial dream a reality.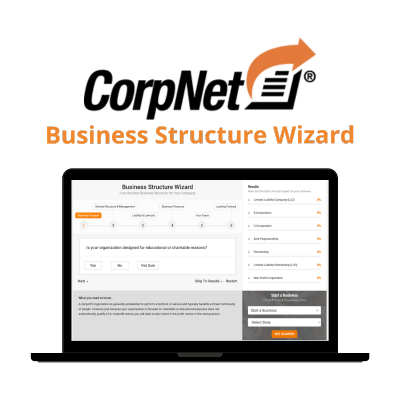 Choosing a business structure can be a tough decision for the new business owner. CorpNet wants to make the process easier.
This free, online tool helps small business owners navigate the process of picking the right business structure for their new business.