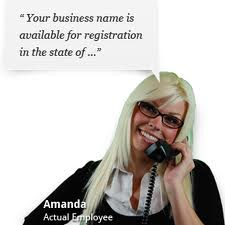 One of the things I love most about being a small business owner is the relationships I get to create over time with our small business employees. I love working with all of our CorpNet staff, but one of them has been with us longer than any of the others – she's really more like a daughter to me than an employee, and she's seen it all during her time at our company: so I'm pleased to put the "CorpNet staff spotlight" on Amanda Beren, our Senior Document Analyst.
Amanda Beren has worked for CorpNet and for our prior business incorporation service (that we started years ago, before CorpNet) for almost 12 years. She started working for us at age 19, and then when our prior company was sold to Intuit in 2005, Amanda stayed there for a few years before coming back to work with my husband Phil and me when we decided to start CorpNet in 2009.
As a Senior Document Analyst, Amanda is responsible for processing documents, making sure the business filings are done correctly and efficiently. It's very much a "detail-oriented" job, and Amanda keeps track of dozens and hundreds of details every day with diligence, tenacity and grace under pressure.
"I love what I do and I love who I work for," said Amanda. "I've been working with CorpNet CEO Nellie Akalp since I was a teenager, and I'm passionate about what I do and I love learning new things every day to help our clients start a business and manage their business filings."
Most people might think of business filings as a pretty straightforward, even "boring" job – but Amanda said that one of the surprising things about this job is how quickly you can see the overall shifts in the national economy. As a business formation service, CorpNet has a finger on the pulse of entrepreneurship in America.
"Since CorpNet is in the industry of forming businesses we can see firsthand how the small business community is reacting to the economy in a positive and negative way," said Amanda. "We see when people are more optimistic and more cautious. We see people leaving jobs or rebounding from unemployment by starting a business. It's much more than just handling paperwork. I get to hear exciting stories every day – so our work is never boring!"  
"A lot of people don't understand why I love my job so much, because it's technically 'paperwork' and most people hate dealing with paperwork," said Amanda. "Well, I love it. I love to learn random things about certain states and counties that may or may not come in handy to me in the future. Either way, its knowledge and you never know when you'll need use it. I'm learning all the time."
Amanda prides herself on her meticulous attention to detail and the hands-on customer service that CorpNet delivers for its customers.
"I've been doing this for close to 12 years, and I can honestly say that CorpNet's biggest advantage for customers is that our customers get excellent service and hands-on treatment," Amanda said. "Everyone at CorpNet takes pride in our knowledge of the products and services we offer, and we make every customer a priority. It doesn't matter where you're located, we can help you. Like me for example – I have a lot of detailed knowledge for how to handle business filings in all 50 states."
Amanda comes by her detail-oriented style of work naturally, but she's also had some help to "learn the ropes" of the business incorporation world along the way. Amanda said that one of her most vivid memories of working at CorpNet was a time when she was working with me on some urgent documents for non-profit organizations, and it took a few tries to get them right.
"Nellie was training me to do processing for non-profits, and I had sent her a document that I thought was done, but she kept sending it back to me because she kept finding errors that she needed me to fix," said Amanda. "Nellie had marked my precious document with a red Sharpie marker saying 'Redo' with all the errors circled. We both stayed until 10 p.m. until I finally got it right and to this day I have not made those same mistakes again!"
The CorpNet team often has to handle last-minute filing deadlines for our clients, and Amanda has proven herself to be dedicated to getting our clients' work done, no matter what it takes. "There was one incident a few years ago where one of the states made a last-minute change to its due date for annual filings," said Amanda. "We had to scramble at the last minute to get done with hundreds of filings for our customers, in a matter of days, to prevent our customers from getting late fees."  
Amanda comes from entrepreneurial family roots, as both of her parents own their own businesses. One of the biggest entrepreneurship lessons Amanda has learned from her parents is time management. "When you run your own business, the hardest thing is managing your time," said Amanda. "It's hard to give great service without cannibalizing yourself. You have to strike the right balance to stay as profitable as you want to be while still delighting your customers."
Asked what kind of business she would like to start if she was going to become an entrepreneur, Amanda says she's happy right where she is! (Good answer, Amanda! We don't want to lose you.)
"Call me crazy, but I wouldn't want to stop what I am doing," said Amanda. "I've been in it too long and I've got a strong knowledge base in business filings that I don't want to go to waste. So whether it is with CorpNet or on my own, I'd still want to help new businesses with their start up needs."
Amanda says that she really feels "at home" working at CorpNet.
"I definitely don't feel like I'm just another employee at CorpNet. I definitely get a sense of ownership," said Amanda. "Probably because I've worked for Nellie and Phil Akalp for so long or because I was a part of their business start-up process. I still remember the day we got our first customer call – we were so excited! But either way, compared to other jobs I've had this place is the best. It's not a corporate type of structure, it's definitely a family type of company with a tight-knit group of people who care about each other and who are happy to work together."
Working with Amanda has been one of the highlights of my career as a CEO of CorpNet. As long as I've been in the business of helping entrepreneurs incorporate a company, Amanda's been right there backing me up, in good times and in tough times, and everywhere in between.
Amanda said, "Nellie has been a major part of my life for over a decade. She's my boss, my friend, my mentor and a major inspiration in my life. She's one of the hardest working people I know in and out of the office. It helps me puts my work ethics at a higher standard. I feel she helped me be who I am today and I am thankful to have her in my life."
That is high praise! Thank you to Amanda for everything you do every day, and everything you've done over the past 12 years, to help make CorpNet what it is today. I look forward to many great things to come!