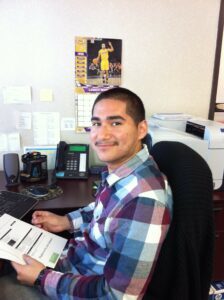 CorpNet has a talented team of dedicated people who help our customers start a business, incorporate a company and manage business filings every day. One of our team members is Milton Turcios, who works in Document Fulfillment and Customer Service.
Milton, like CorpNet CEO Nellie Akalp, is the child of immigrants, and he was the first child in his family to be born in the United States. In addition to his full-time job at CorpNet, Milton is currently attending Cal-State University Northridge (CSUN), majoring in Cinema and Television Arts with a focus in TV Production.
Milton started working at CorpNet in August of 2011. He describes his work in document fulfillment as being the last leg of a relay race. "You must wait for the baton to be passed around a couple of times," said Milton. "In my department we have to wait until the original documentation gets processed in our office, then we must send the documents to the state for filing, the state then files the paperwork and sends it back to our office. At that point, I receive original documents from the state allowing me to finalize the customer's order by Obtaining Federal Tax ID numbers, generating Operating Agreement/Bylaws and Minutes, and all the other smaller tasks that go along with it, like Cover letters and Packing Slips."
Milton said that he has found CorpNet to be an ideal place to work. "I love my co-workers, the atmosphere, and the standards which we hold ourselves to," said Milton. "We are truly trying to create a new standard in the online incorporation services industry. On a daily basis we strive to do what's best for our clients. We give a personal touch to the industry that we're in. A lot of the clients come in not knowing one step of the incorporation process and after 5 minutes or 15 minutes with one of our representatives, they have all the knowledge needed to help them move forward in establishing their business."
Milton said that the most inspiring aspect of his job is simply having a front row seat to the origins of American entrepreneurship. "Just seeing how many people open up businesses in the United States is really inspiring," said Milton. "It's amazing how many entrepreneurs there are in this country willing to follow their dreams by starting up and operating their own business."
There are lots of other companies offering online incorporation services to help entrepreneurs start a business, but Milton believes that CorpNet has a unique focus on truly caring customer service.
"The biggest advantage that customers get when they hire CorpNet is that our company is based on knowledge, honesty, kindness, and great customer service," said Milton. "Every time I help a customer with their business filings, or answering questions on the phone, I'm giving them 100% honesty and dedication. If you ask me a question, I'll answer it truthfully. I'm very dedicated to my job and I really strive to please the customers to the best of my abilities."
Working at CorpNet can get a little crazy sometimes, with all the last-minute customer requests and urgent business filings that need to be processed. Milton said that his favorite story was a time when he was about to leave for the day, saw what he thought was a rubber snake on the floor of the restroom, and then realized that the snake was REAL. "I told my co-worker Amanda about the snake and we didn't know how to handle it, so we put boxes and reams of paper covering up the opening below the bathroom door," said Milton. "We called Phil Akalp and the property management team, and they took care of it."
The nature of CorpNet's business is accuracy, speed and accountability, and Milton lives this expectation in his own work in document fulfillment.
"When you're in document fulfillment, you're always working with deadlines," said Milton. "I often stay late to make sure we are sending things out on time. There have been times where the cleaning crew is on its way into the office, while I am on my way out. Whatever it takes to get it right for the customer."
Milton had an early interest in business, studying business classes in high school. Asked which type of business he would like to start, Milton said that it would either be a sports bar and grill ("I'm a sports fanatic," he said) or a Salvadoran restaurant/bakery with his mother and grandmother.
Beyond the business world, Milton said that he would love to start a non-profit organization to help Hispanic students that have migrated to the U.S. to learn the English language and be empowered to succeed in school.
Milton said that CorpNet truly is a family atmosphere, befitting a small family-run company.
"My favorite memory of working at CorpNet is the impromptu birthday lunch my co-workers put together for me," said Milton. "They called me into our lunch room, they proceeded to sing Happy Birthday, and lit candles on my favorite pizza! It was a very special moment for me. I really appreciated the gesture and it drew me closer to my co-workers."
A major part of the unique culture of CorpNet is the leadership of CorpNet CEO Nellie Akalp, who runs CorpNet along with her husband Phil. "I'm very grateful and fortunate to have Nellie as my boss," said Milton. "She treats us all like family, but when it's business time, we all understand we have a job to do and Nellie is our leader, so she takes the lead and does so gracefully. She works harder than anyone I know. I don't know how she juggles marriage, four kids, and operating her own business. But that's Nellie for you, always on the go."
CorpNet is in the business of managing details and solving problems for our customers, and Milton said that Nellie's leadership is always focused on this same spirit of service and problem-solving. "Nellie and Phil do everything in their power to help you excel," said Milton. "If a department hits a snag, they help us identify the problem and find innovative solutions to move forward."
---
Ready to start a business and build your own close-knit team of professionals? Talk to CorpNet for a free business consultation on how to incorporate a business. CorpNet's free tools, advice and guidance can help you choose a business structure, create an LLC, set up an S-Corporation or other corporate entity to protect your assets and attain the corporate tax benefits and financial advantages of doing business as a corporation.