As a serial entrepreneur with a heart for helping other entrepreneurs, it pains me to see business owners misled by registered agent services providers who offer bargain basement prices. These low-priced registered agents focus on offering the cheapest price possible and they do this by limiting services and hiding incremental fees. They lack customer support, have limited service capabilities, and have inadequate expertise to address customer questions and issues. And at the end of the day, this low-priced service usually comes at the buyer's expense.
Unfortunately, many new small business owners don't know the true worth of an experienced registered agent. This lack of information allows less-than-stellar providers to lure them with their super-low prices and untrustworthy marketing tactics. I want to help you look past the "best registered agent" comparisons that zero in on the lowest price while ignoring or downplaying other aspects entrepreneurs should consider when choosing a registered agent. I want to help protect you from falling into that trap.
Below I'll provide a more comprehensive view of a registered agent, which will help you look at the bigger picture. This additional information will allow you to safely find, compare, and select a registered agent that can fulfill all your needs.
A Lower Price Does Not Equal Better Value
Some registered agents tout remarkably low rates. While a $35 annual fee for registered agent services might sound like an amazing deal, it can be a losing proposition for entrepreneurs who take their businesses seriously.
Why? Business owners have had terrible experiences with companies that offer too-good-to-be-true pricing. Between lack of transparency and shoddy service, there's much reason to raise the red flag.
As you browse the internet for a registered agent, I'd like you to keep an eye out for three signs of concern:
Do you know who is behind the company? Unlike CorpNet, where we share our executive leadership and management team members, other companies keep that information under wraps. Do they have something to hide? Do they not have as much experience in the industry as they want people to believe? Are they afraid you'll reach out to ask questions or express concerns? It makes one wonder, doesn't it?
What do their customers think of them and their services? The overall review ratings on Trustpilot paint a not-so-pretty picture of many low-priced registered agent providers. For example, CorpNet has achieved an Excellent rating (currently 4.9 stars), while the ultra-cheap providers are at 3 stars or less.
Are there any customer complaints filed against the provider? Customer complaints to the Better Business Bureau are abundant for some low-cost registered agent providers. I saw one complaint that states a business owner paid for registered agent services, but the provider made a billing error that made it appear to the state that the business had no registered agent. The state then administratively dissolved the business for failure to maintain a registered agent. Ouch!
What to Look for in a Registered Agent
Value means more than just dollars and cents. Consider what your business needs now and long-term to support your growth aspirations and to keep you in good standing with federal, state, and local business laws.
When you are reviewing and comparing registered agents, remember to consider how your selection will impact your ability to maintain compliance for your business.
In particular, keep the following data points in mind so you can make sure your preferred provider can meet the needs of a growing business:
Compliance monitoring – Automatic notifications that inform you when an upcoming compliance deadline is approaching help ensure you complete annual reports, business license renewals, and other filings on time. That's important because late filings usually mean late fees or other penalties. Lower-cost registered agent services providers might charge extra for monitoring or provide them only with subscriptions to certain services. It's important to ask for all the details about a provider's monitoring services before signing up.
No cap on document scanning and forwarding – Often, low-cost registered agents limit how many documents they will scan and forward to a client's business address. Depending on your business and its compliance responsibilities, you could get nickel and dimed whenever the registered agent receives documents on your behalf. So, consider looking for a provider that offers unlimited scanning and forwarding in their pricing.
Free online portal for managing compliance – You can stay more organized if your registered agent provides an online tool that serves as a central hub for your business legal filings, important documents, and compliance tasks. Look for a provider who will let you set up an account in their portal before you pay for services so you can see whether it's user-friendly and has all the functionality you need.
Capabilities beyond registered agent services – Having a single company that serves as your registered agent and your partner in fulfilling all your startup and ongoing compliance needs means a single point of contact with a comprehensive understanding of your business. So check to see if the registered agent can also handle LLC and Corporation formation filings, annual reports, EIN applications, state payroll registration, and other mission-critical business filing activities.
Authorized as a registered agent across the U.S. – Business owners wanting to expand their companies into other states can benefit from a registered agent who provides its services in all 50 states. LLCs and Corporations must designate an authorized registered agent in each state where they operate. Having the same registered agent for every state you do business in means you can manage everything through one provider and have just one customer portal to monitor your compliance tasks and keep all your documents.
Responsive business filing experts ready to help – Busy business owners shouldn't have to jump through hoops to get their questions answered or concerns addressed. Seek a registered agent who has real people with reliable expertise ready to talk with you. When you start to look for this, you'll be surprised at how many agents don't have humans available to pick up the phone and help you.
Money back guarantee – If a registered agent is willing to guarantee your satisfaction, you can feel confident they will pull out all the stops to deliver exceptional service.
Please, consider all of the above when researching your registered agent options! And to help keep you on track, you can download our checklist to use in your comparison journey. Just cllick on the timage.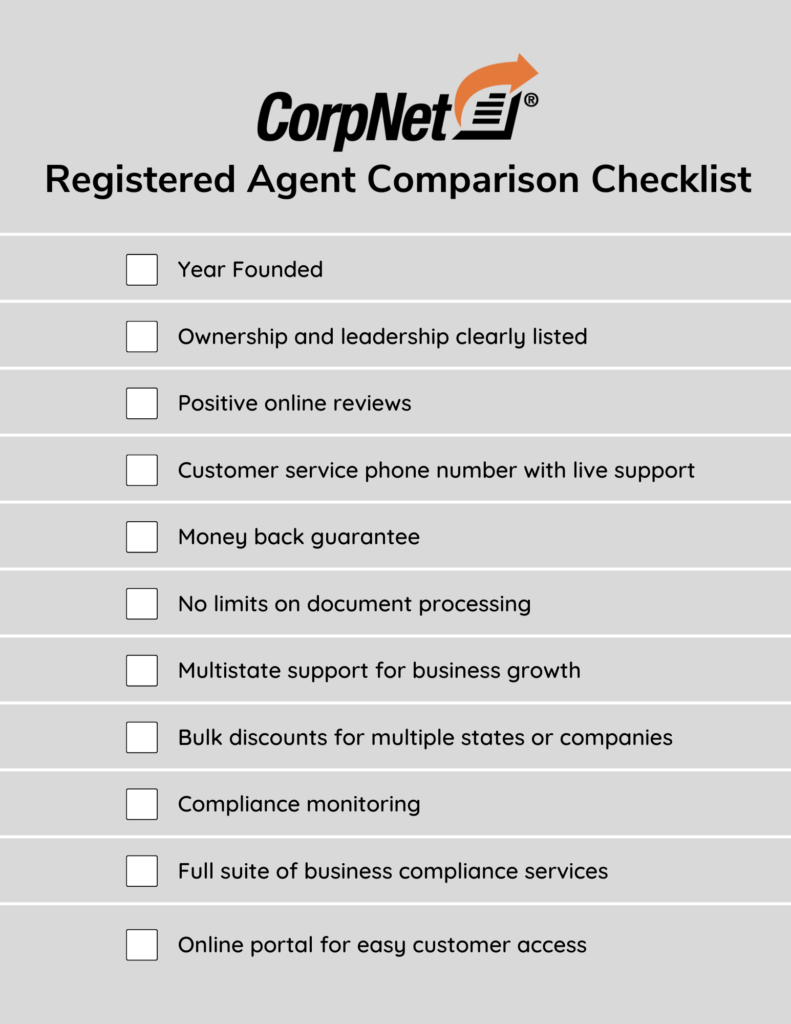 The Bottom Line
While at face value, a low-priced registered agent may seem like a sweet deal, things can turn sour quickly due to hidden fees, poor customer support, and inferior service. So rather than looking only at the price low-cost providers flash prominently on their websites, dig deeper into what you'll be getting — and not getting. Often, the best value will come from a provider who charges a little more, because you get so much more for your money.
Your business means everything to you and you need a partner you can trust for superior service, a full suite of business filing capabilities, reliability, responsiveness, convenience, expertise, and peace of mind. We'd love to be that partner.
Appoint CorpNet as Your Registered Agent
CorpNet can act as your company's registered agent in any state ensuring your corporation or LLC stays compliant with any service of process, legal notices, or official mailings.