Starting a business as a kid or teen is exciting! With it, comes an opportunity to learn life-long skills that will help you become a successful adult. And, of course, there's the money you can earn! But how do you start a business as a kid or teen? Well, regardless of your age, you will need to follow pretty much the same business-related rules as when starting a business as an adult.
Your parent or guardian will be one of the most important resources in your journey. While you're their dependant in their household, you'll want to involve them in the process so that you can get your business off the ground.
While it may be tempting to start a business and ignore the federal, state, and local rules for legally operating a business, know that doing so could put you in legal hot water. Even business ventures as simple as a lemonade stand in a front yard have been shut down because neighbors reported them for not having the proper permits and other paperwork in place!
Just as when starting a grown-up-owned business, it's helpful to get expert guidance from a lawyer, accountant, and tax advisor. The information in this article is meant to help you understand many of the things you will need to think about, but it is not a substitute for professional legal, financial, and tax advice. I highly recommend talking to licensed experts who can answer your questions about how to start a business a kid and give you proper direction based on your situation.
After you've identified everything that you must do to start a business as a teen, CorpNet is here to help. We make preparing and filing the required business paperwork with the local government, state government, and IRS a simple process!
What to Think About When Starting a Business
1. Decide on the business you want to start
Kids and Teens:
For some kids and teen entrepreneurs, this step may be easy to check off the list. For others, it can be a struggle! Is there a hobby that you can turn into a business? For example, if you're creative, perhaps you want to consider producing artwork or jewelry to sell. Or maybe you enjoy being outdoors and physically active. In that case, helping homeowners with their lawn work might be a great fit. If you enjoy caring for and entertaining small children, babysitting might be just the thing for you.
Think about the things you love to do and the things you have the talent and skills to do as you decide on the type of business you want to start.
If you're struggling, you can find some inspiration online by Googling "business ideas for kids" or "business ideas for teens."
As the parent of a teen who has an entrepreneurial mindset, I have direct experience with the opportunities and challenges that come with the territory. My son has countless ideas constantly and tends to start multiple projects at once. Often, he finds he can't finish them all because he's stretched too thin. Learn from the lesson he has learned: start with one business idea, focus, and follow-through.
Parents:
If your child expresses an interest in starting a business as a kid or teen, you can offer valuable guidance and feedback as they decide on the path they'll take. Help them brainstorm ideas and take inventory of their skills and talents. Your insight will also prove helpful in ruling out types of businesses that have prohibitive startup costs, will demand excessive time, or come with extensive liability ramifications. You can also help them stay focused on their idea and the tasks ahead. As I said earlier, follow-through is the key to success.
2. Talk to your parents or guardians
Kids and Teens:
As I mentioned earlier, your parents or guardians must be a part of the process. They will have to get involved with many pieces of the puzzle—paperwork, taxes, bank accounts, and law-related stuff.
Parents:
It may seem like no big deal to keep your kid's business activities "under the radar." But you can get yourself into trouble if your child's business fails to follow the rules that apply to an adult-owned business. Possible responsibilities might include obtaining local licenses or permits, collecting and remitting sales tax on taxable goods or services sold, paying income taxes if the business shows a profit of $400 or more, and paying self-employment taxes. Depending on the type of business and where the business is located, there could be other obligations, as well.
3. Talk to possible customers
Kids and Teens:
It's amazing what you can learn by talking with people you believe will need or want your products and services! Besides learning what potential customers will want to buy, you can also learn how much they're willing to pay. For your own safety, don't go out and talk with strangers. Instead, consider talking with friends, trusted adults, and relatives who might become your customers.
You might also consider creating prototypes (samples) of your products or providing demonstrations of your services to show people what you intend to sell. By getting feedback, you will know how to make your products and services better so that you can attract more customers.
Parents:
You can help your children by giving them your honest feedback and useful suggestions. You might also help them identify potential customers who will make good beta-test candidates. While starting a business always comes with the risk of failure, encouraging your kids to test their business ideas will help ensure they go to market with products and services that will improve their chances of success.
4. Create a business plan
Kids and Teens:
You'll have a better idea of everything you must do to start your business and run it if you write (or type) out a business plan. Include things like:
Where will you run your business?
Who will your customers be? (e.g., adults, other kids or teens, men, women, people with dogs, people who own their homes, etc.)
What supplies, tools, and equipment will you need? Where will you get those things, and how much do they cost?
How much money will you need to get started and run your business until the money comes in from your customers?
How much will you charge for your products or services?
What will you call your business?
How will you advertise your business?
Also, think about the goals for your business. For instance, are there a certain number of customers you hope to have by a specific date? Or do you wish to make a certain amount of money by the end of the year? These are just a couple of examples of the types of goals you might set for yourself.
Parents:
You can help your child through the planning process by helping them think through the logistics of what it will take to start and operate their business. Figuring out the financial aspects can be especially challenging for kids and teens who haven't had extensive experience in managing their money. This is your time to shine as a mentor to your kids. I believe you'll find the experience enriching, as well.
5. Raise the money you need to start your business
Kids and Teens:
If you've been earning an allowance or working part-time for a business in your area, you may have some money saved. Will that be enough to start your business and keep it afloat until the money from customers starts flowing in? If not, you may want to ask your parents if there are additional chores you can do at home to earn some extra cash, seek a temporary weekend job, or ask friends and family members if they are willing to loan you money.
Parents:
If you have funds available to help your child start their business, consider working out a repayment plan to give them real-life experience with borrowing money from a lender and paying it back. You might also help them establish the terms of repayment If your kid or teen borrows money from friends or relatives.
6. Take care of the legal requirements
Kids, Teens, and Parents:
Do not treat the legal responsibilities that come with operating a business as "child's play," even with a business owned by kids or teens. Child business owners must follow many of the same rules and legal requirements as adults. As I mentioned earlier, an attorney and accountant or tax advisor are valuable resources for helping you understand what you must think about so that you make informed decisions and take care of all the necessary to-dos.
The Typical Steps for Getting Started
1. Decide what you will call your business
Choose a business name that will be memorable and make you stand out from other businesses. You also need to make sure there are no other businesses that are already using the name you pick. For example, let's say Judith Marcos is starting a business making charm bracelets, and she wants to call her company "Charmed by Judith." She can use CorpNet's free name search tool to make sure her name isn't already taken.
2. Legally register your business
First, decide what legal entity (business structure) the business will be. Many kid-owned businesses operate as sole proprietorships because it's the most affordable and least complicated way to go into business. If the business will be providing products or services that may put anyone or anything at risk of injury, it may be beneficial to create a formal company structure, such as a Limited Liability Company (LLC). Unlike a Sole Proprietorship that provides no legal separation between business owners and their company, an LLC is considered its own legal entity. That means if someone were to sue the business, the kid owner's and parents' personal money and property receive some protection under the law.
CorpNet can help you by preparing and filing any necessary business formation documents and other paperwork such as:
Filing a DBA (doing business as), which is required if operating a Sole Proprietorship under a fictitious name like our earlier example, "Charmed by Judith"
Obtaining an Employer Identification Number or Federal Tax ID Number
Filing Articles of Organization if registering a Limited Liability Company or Articles of Incorporation if registering a C Corporation
Parents may have to sign official legal documents with (or for) young business owners.
One other thing I should explain: If you decide to run your business as an LLC, you will need to designate a registered agent in your state to accept important tax, legal, and other government notices on your behalf. CorpNet is authorized to be a registered agent in all 50 states, so no matter where you are located, we can help you in that way, too.
3. Obtain the right business licenses and permits
Depending on the type of business you are starting, you may need county or local licenses and permits before you start selling your products or services. It's helpful to call the local government offices or review information about the requirements on their websites so that you understand what you need and how much it will cost.
Also, CorpNet makes it easy to identify what licenses and permits you'll need. Talk with us about our business license services. We can search for the necessary licenses and apply for them on your behalf, so you'll have one less thing to worry about as you start your business.
4. Open a business bank account
It's crucial that you open a business bank account to keep your business's money separate from money that you get as an allowance, through a job, and as holiday gifts from your grandparents. Tracking all of your business spending and earnings separately from your personal expenses and income makes it easier to know how well your business is doing. It also makes tax reporting time much less complicated because you'll have a clear picture of what your business paid for and how much money it made.
5. Prepare to manage your money and pay taxes
When a kid's business has profits of more than $400 in a year, an income tax return must be filed. Even if a business doesn't reach the income tax minimum, the kid business owner may still have to pay self-employment tax (Medicare and Social Security). Parents, you can help child entrepreneurs by guiding them in putting money aside to cover their taxes.
Most Sole Proprietorships and LLCs must report and pay taxes each quarter via estimated tax payments at the federal, state, and sometimes even the local level. Tax laws vary from state to state, county to county, and municipality to municipality, so consider talking with a tax advisor to make sure you understand what taxes you'll be responsible for.
Parents, even if a child files their own tax return, a parent may still be able to claim them as a dependent on the parents' income tax return if the child meets the IRS's description of a qualifying child dependent.
6. Stay on top of your ongoing business compliance
There may be some things you need to do yearly or some other timetable to keep your business legal. For instance, some business permits must be renewed, and taxes must be filed when they're due. Keep track of your upcoming compliance tasks by using CorpNet's free online monitoring tool, which will give you notifications when filings are nearing their due dates.
7. Market your new business
Kids and Teens:
A variety of online and offline marketing can help you spread the word about your business and attract customers. Here are some ideas:
Website – Assuming you don't need anything too complicated to start, you may want to explore setting up a website using a free website builder such as WordPress, Wix, or Weebly.
Social Media – Facebook, Instagram, Twitter, and other social networks provide a way to build a following for your business as you post updates, photos, and videos to showcase your products and services.
Email marketing – Consider asking people if they'd like to be on your email list to receive updates about your business and special deals that you will offer. Email marketing platforms like MailChimp make it easy to design attractive marketing emails.
Flyers – Printed marketing materials like flyers, brochures, and posters can also draw attention to your business. Just make sure you have permission from the property owners, business owners, or the municipality you're targeting before you display or distribute them. Places that may be good locations for your print materials include grocery stores, churches, and community centers.
Parents:
Your kid or teen may need your help in setting up accounts for the online tools I mentioned. And with some platforms, only an adult may be allowed to establish an account. Be sure to read the terms and conditions of each online platform carefully before moving forward. Also, educate yourself about how you can help your child learn how to stay safe online.
8. Be Alert and Cautious
Kids and Teens:
Also, beware of scammers out there who want to take your money. You may get offers from "business coaches" or "mentors" who claim they can help you gain fame and fortune but then take your money and never deliver on their promises. It happened to my son, and it was a huge mess. He lost a lot of money and was heartbroken. I don't want to see you go through that!
Parents:
Help your child question too-good-to-be-true offers of help. Many adults fall prey to scams, and children are even more susceptible.
CorpNet Would Love to Help You Start and Grow Your Business
Kudos to you, kids and parents, for taking the initiative to research how to start a business as a teen. The experience will surely be one that you all learn and grow from. I wish you much success! Stay focused, work hard, get guidance from legal and accounting professionals, and talk with CorpNet's business filing experts about how we can help you make your business dream come true!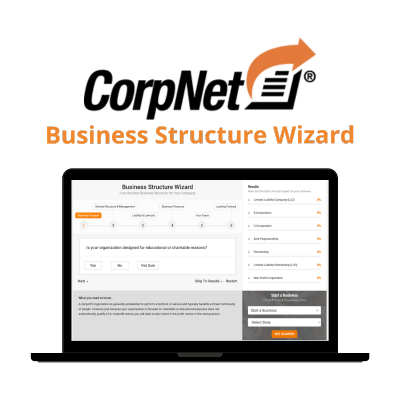 Choosing a business structure can be a tough decision for the new business owner. CorpNet wants to make the process easier.
This free, online tool helps small business owners navigate the process of picking the right business structure for their new business.