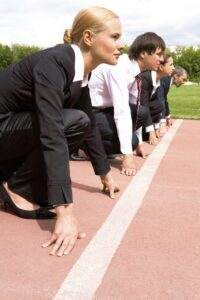 Think you're ready to start a business? This post will help you determine whether you're ready to become a small business owner, or if you need to do a bit more developing before diving in. Just answer each question honestly to see where you stand.
1. Do I Have a Viable Idea?
By "viable" I mean an idea that can become a business. It's one thing to have a fabulous idea for the next whatsit, but if you don't have a clue on how to turn that into a business, you might not be ready.
If You Answered Yes: Look at your target audience and conduct research for what they want out of a product or service like yours.
If You Answered No: Go back to the drawing board. Think in terms of an idea that you can sell, and that people will want to buy.
2. Do I Have Money?
Funding a business can come from many sources, including bank loans, investors, and even your own savings. The key is having a plan for how you'll cover your expenses the first year, both personal and business. Don't count on profitability for a while.
If You Answered Yes: You're likely ready to start your business. Just keep an eye on your expenses to make your money go further.
If You Answered No: Look at different options, like borrowing from family members if your credit isn't good enough for a traditional bank loan. Consider continuing to work at your day job until you are profitable.
3. Do You Know What Business Structure You Want?
Choosing the proper business structure up front is imperative, as it makes it easier later. Find one that will protect your personal assets and make it simple to set up a business banking account.
If You Answered Yes: Start the process of incorporating or filing as an LLC. Remember that it can take your state government weeks to process your application, so if you're in a hurry, consider ordering an expedited service.
If You Answered No: Look at your different options. If you have shareholders, a corporation might be your best bet. If you want less formality, an LLC might be the smart way to go. Just know that operating as a sole proprietorship or partnership won't protect your personal assets from liability.
4. Do You Have a Business Plan?
Whether you aim to seek funding from an investor or not, having at least a sketch of a business plan can help you know what general direction you want to take your company and give you a way to take it there.
If You Answered Yes: Keep it handy so you can refer to it regularly. Update it as needed, because your business' strategy may change.
If You Answered No: Create one. It doesn't have to be a 50-page document, so start with a basic outline with your company's mission and offerings, as well as how you plan to hire, market, and grow the business.
Of course, there's much more to starting a business, but answering these questions will give you a basic idea of whether or not you're ready. For a more detailed checklist for starting a business, download CorpNet's Starting a Business Checklist.