According to IBISWorld, the food truck industry has 25,476 businesses in 2020. Growth in the industry from 2015 to 2020 averaged 8.7%. With the COVID-19 crisis a reality now, arguably, the food truck industry may be better suited than brick-and-mortar restaurants to navigate the challenges. With more people consuming take-out food and spending less time in sit-down establishments, food trucks may appeal to customers' desires for getting good food fast and with less person-to-person contact.
In this article, I'll share insight to get you headed down the right road on your entrepreneurial journey. What I share here is not meant as, nor is it a substitute for, legal, tax, or accounting advice. Please consider enlisting help from knowledgeable attorneys, accountants, or tax advisors for direction on the legal and financial aspects of starting and running a food truck business.
This how-to guide provides information to help you learn how to get into the food truck business. I'll cover the pros and cons of starting a food truck,  business, income potential, steps to get you started, and I'll also provide some additional business resources so you can continue your learning.
Pros and Cons of Starting a Food Truck
Advantages
An opportunity to create your own career destiny.
Flexibility in what you sell and where you work. If certain products, events, or locations don't yield the results you want, you can adapt your plans accordingly.
Mobility that allows you to go to where demand exists.
Lower startup and operating costs than a brick-and-mortar restaurant.
Growth potential, since you can extend your brand by adding more trucks and expanding your territory.
Disadvantages
Long hours when you factor in business administration tasks along with food preparation, operating hours, cleaning, etc.
Evening, weekend, and holiday hours.
Increased competition as an increasing number of entrepreneurs enter the industry.
Ordinances, zoning, and regulations that vary by state, county, municipality, and venue.
How Profitable is a Food Truck?
The short answer is: It depends. Many variables exist that affect how much it will cost to start and operate a mobile food business. Likewise, the revenue you make and the sales volume you need to cover costs and reap a profit will depend on the types of products you sell, where you'll sell your products, economic conditions, and other factors.  When operating a food truck business, your success will largely depend on how well you've researched the opportunity.
Understand your target market.
Understand your competition.
Determine a viable niche.
Identify your startup and ongoing costs.
Set your pricing appropriately.
According to a FoodTruckEmpire.com survey of 300 food truck owners in California, Florida, New York, Texas, and Oregon to gauge annual gross income:
2% made over $200,000
4% made $150,000 to $199,999
8% made $100,000 to $149,999
76% made $50,000 to $99,999
59% made under $50,000
Keep in mind that these numbers reflect revenue, not profit. Profitability depends on controlling costs as much as generating sales.
How much money do you need to start a food truck? Many factors come into play, so this can vary widely from one mobile food business to another.
According to Zac's Hamburgers (a food truck franchise), the approximate costs for starting and operating a food truck business independently are:
Permits, licensing, and insurance – $500 to $1,000
Cost of the vehicle – $80,000+ for one that's well-equipped and in good condition
Inventory (food and supplies) – $1,000+
Commissary fees (for off-site kitchen location to prep food, clean equipment, and store food) – $400 (give or take) monthly
Truck maintenance and fuel – variable
The more you know about what's involved, the better able you will be to plan and prepare for the opportunities and challenges that come with the territory. Below, I'll share some of the considerations to address and steps to take.
Steps for Starting a Food Truck Business
1. Decide on Your Food Concept or Niche
This is where the rubber hits the road with regard to differentiating yourself and appealing to your target market. The food truck business idea you choose will not only impact the menu items you sell and the customers you attract, but also it will influence your branding strategy (business name, logo, and more).
What kind of cuisine is a good fit for a food truck? Ultimately, anything and everything sold by cafes, restaurants, bakeries, and other eateries could potentially work as a concept. Deciding on the right food style and menu selection depends on knowing your target market, location, competition, and talents.
Some of the ethnic cuisine categories that food trucks specialize in include:
African
American
Asian
Indian
Italian
Latin American
Mediterranean
Mexican
Also, some food trucks focus on providing regional favorites or offering fusion fare, which blends multiple ethnic cuisine elements into their menus.
Below are just a few examples of the variety of items food trucks across the U.S. offer:
Burgers
BBQ and brisket
Steak sandwiches
Pizza
Gourmet macaroni and cheese
Coffee
Donuts
Cinnamon rolls
Sushi
Salads
Tacos, burritos, nachos
Ice cream and milkshakes
Shaved ice
Lemonade
Hot dogs
Soft pretzels
Deli sandwiches and wraps
Waffles
Gluten-free options
Lobster rolls
Cajun cuisine
Gourmet grilled cheese
French fries
Funnel cakes
Empanadas
Cupcakes
Battered cheese curds
Vegan, organic, and gluten-free menus
Ask yourself these questions as you consider the concept you want to develop:
What types of cuisine and menu items are already offered by food trucks in your area?
What do people in your region crave that isn't currently offered by the food trucks in your locale?
Will it be feasible to obtain the ingredients, equipment, and supplies you'll need to follow through on your concept?
Will you be able to sell the products you wish to offer at a desirable price?
To answer these questions, you'll need to begin doing some research about the industry, the competition, and the many moving parts involved in starting and running a food truck.
2. Decide on Your Business Name
So, what will you call your food truck? When brainstorming how to name your food truck, I encourage you to think about:
Will the name appeal to the customers you want to attract? For example, will they be more receptive to something hip or traditional?
Does the name reflect the type of cuisine and menu selections you will serve? Does the name subtly or explicitly help customers know what they can expect from your food truck?
Does the name give you room to grow? Is it so specific that it might restrict your potential to expand your menu items in the future?
Is the name easy to spell and pronounce? Overly complicated names may be more difficult for customers to remember, find online, and share with other people.
Have any other businesses claimed the name? If another company in your state has registered the business name or has trademarked the name, you may not be able to legally use it for your food truck. And, if another business has already used the business name as its domain name, you will have to come up with another domain that you can register for your website. Below, I expand on this very important bullet point!
CorpNet's free business name search tool and trademark search tool can help identify if a name is already in use in your state and elsewhere in the United States. An attorney can help check and verify a business name's availability, too.
When a food truck owner forms an LLC or C Corporation, the business name is automatically registered with the business entity. Sole Proprietorships and Partnerships that intend to use a name that does not include the food truck owner's legal name (first and last name) must file to use their desired name as a DBA (Doing Business As or Fictitious Name).
Either at the same time or even before doing a business name search, it might be beneficial to check if the desired business name's domain name is available. For example, if an entrepreneur wants to call the business "Cloud 9 Cafe Creations," are cloud9cafecreations.com or cloud9cafe.com domains available? Having a website URL that will match your company name can help people find your food truck online more easily.
Several companies that can help identify if domain names are already in use are GoDaddy, Whois.net, Domain.com, and Nameboy.
3.  Write a Food Truck Business Plan
A business plan is a roadmap that charts the course for starting and running a successful company. It states goals and provides a format for capturing everything involved in launching and operating the business. Also, a business plan helps entrepreneurs get a handle on the costs, revenue, and profitability they might expect which is especially critical if outside funding will be necessary. The elements included in a business plan vary depending on the type of business, location, size, and other factors.
Generally, most food truck business plans may include the following sections:
Executive Summary – An overview of your business's vital information. For example, the food concept, target market, why the business stands to succeed, financial overview and funding needs, and goals for the company.
Company Description – Provides additional details about what the business is all about. For example, mission statement, why your business is unique, flagship products, company leadership structure, staffing, and overview of marketing strategy.
Market Analysis – Outlook for the food truck industry and research to support consumer demand and your success potential. For example, statistics about growth in the industry, size, description of your target market, primary and secondary competitors, regulatory environment, opportunities, and challenges.
Management – Details about how your business will be organized and managed. For example, owner(s) and manager(s) education, experience, skills, financial contributions, compensation; attorney and financial advisor contact information.
Products and Services – Details about the menu items you'll serve and why customers will buy them. For example, your initial menu and pricing; unique qualities of your menu; will you offer products at events, on the street, or via catering.
Sales and Marketing – Information about how you will attract customers and generate awareness about your food truck business. For example, how will you advertise your business, your logo design, what social media channels will you use, and how much do you expect to spend on marketing and branding efforts?
Financial Projections (usually for the first five years) – Reports that provide insight into your business's anticipated revenue and profitability. For example, break-even analysis, profit and loss statement, balance sheet, and cash flow statement.
Funding Request – This section will describe to investors the details about your funding needs. For example, how much money you will need from investors to launch and ramp up your business, what will you use the funding for, how do you intend to repay loans or provide investors with a return on their investment, and what opportunities will the funding open up for your business?
Appendix – Supplemental documentation to provide additional details and support information shared in your business plan. For example, the Owner's resume and credit history, market and competitive analyses spreadsheets, contracts and leases, reference letters, patents and trademarks, mock-ups of marketing assets, photos or renderings of the food truck concept.
4. Register your Business Entity With the State
Should the mobile food truck business operate as a Sole Proprietorship or Partnership? Or should you form a Limited Liability Company (LLC) or incorporate it as a C Corporation or S Corporation? This is a big decision, and you should weigh the pros and cons carefully.
While the Sole Proprietorship and Partnership structures come with less paperwork, fees, and compliance formalities, they do not provide business owners with personal liability protection if someone sues the company. That means the food truck operator's personal assets (house, car, retirement funds, etc.) could be jeopardized.
While the LLC and C Corporation entity types provide legal separation between the business owner and the company, they require formal registration with the state and have other formalities to follow. In return, they offer peace of mind that the business owner's personal property and belongings have some protection against the company's debts.
The following content in the CorpNet website's Learning Center also has some food for thought as you make this very critical decision:
What happens if you want to take your food truck across state lines, either temporarily or seasonally? Besides needing to register for a sales tax permit in the state (and possibly also the local jurisdiction) to collect and remit sales tax on products sold in those jurisdictions, food truck businesses may also need to foreign qualify. Rules vary from state to state when foreign qualification is required, so it's critical for food truck owners to get professional legal guidance about their obligations.
A food truck business that forms an LLC or corporation will need to designate a registered agent in the state(s) where it is registered. A registered agent is authorized to receive service of process (official government notices and legal paperwork) on the business's behalf. Some states allow business owners to serve as their own registered agent. However, since a registered agent's address becomes public record, using a third-party registered agent can help maintain some personal privacy. Also, it's helpful to keep growth potential at the forefront of your mind. If a food truck business eventually expands into other states, a registered agent services provider (like CorpNet) authorized in all 50 states can streamline the process and maintain consistency wherever the business goes.
5. Obtain an EIN
Food trucks that have employees or are registered as an LLC or corporation must obtain an Employer Identification Number (EIN) from the IRS. An EIN (also known as an FTIN – Federal Tax ID Number) is a unique ID number (similar to a Social Security Number) for a business.
Many banks won't open a business bank account for entrepreneurs until they obtain an EIN. The IRS's application for an EIN (Form SS-4) is relatively straightforward, but you can save some time and knock one more "to-do" off of your list by asking CorpNet to prepare and submit Form SS-4 for you.
6. Establish a Business Bank Account
Accurate record-keeping begins with keeping business financial transactions and records independent from those of the business owner. When a food truck business has formed an LLC or corporation, it's imperative from a legal perspective. If an owner commingles personal and business finances (e.g., paying personal expenses with business funds), it blurs the corporate veil that protects the owner from the business's debts. Therefore, if someone sues the mobile food business, a court of law may determine that the owner's assets are fair game because the corporate veil was pierced. That could put the business owner in dire straits as their home, savings accounts, vehicles, and other assets might be taken to pay damages to plaintiffs.
After forming a business entity, it's time to open a business bank account (and credit accounts if desired) exclusively for the company. Doing so will allow business expenses to be paid from business funds, and revenue from customers can go to the appropriate place.
7. Secure Funding
How will you cover the startup and initial operating costs of your food truck?
Some possible sources of funds to consider include:
Your personal assets (savings account, 401K, etc.)
Friends and family members who are willing to invest in your venture
Business or partners (one or more people who will take on ownership with you)
Loans through banks, credit unions, or other financial institutions
Crowdsourcing (such as through GoFundMe)
Local, state, and federal government programs – such as Small Business Administration (SBA), state, and county loans and grants. Your nearby Small Business Development Center (SBDC) will have helpful information about funding opportunities in your area. Also, some libraries have business librarians who are knowledgeable about where to find information about funding options.
When seeking funding from external sources, it's essential to have a thorough business plan that gives potential investors an understanding of your mobile food business's potential and an idea of the return on their investment they might expect.
8. Obtain Business Licenses and Permits
Food trucks must comply with all licensing requirements and other regulations for their industry, type of operation, and jurisdictions where they operate. Entrepreneurs must follow the state's laws and meet the requirements of the county and city, too. Naturally, public health and safety are top priorities and at the core of many licensing and certification rules. Food trucks must follow OSHA rules for protecting employees from workplace injuries and hazards.
Below are some of the specific licenses and permits a food truck may need:
Business License – Some states, cities, and counties require food trucks and other businesses to register for a general business license before selling products and services.
Mobile Food Vendor or Retail Food License – Food trucks may need this type of license to legally sell food on a retail basis. Some jurisdictions may limit the number of licenses that they issue within their boundaries. Before spending time and money on a food truck business, check to make sure that licenses are available!
Seller's Permit – Some states require food truck owners to apply for a seller's permit before they may purchase food and equipment at wholesale prices without paying sales tax.
Sales Tax Permit – Food trucks may need to register with the state or local tax authorities to collect and remit sales tax where they will sell their products.
Food Handler's Permit – Some states and jurisdictions require food truck employees to take and pass a food safety course to obtain a food handler's permit.
Health Department Permit – Food trucks (and their commissaries) must undergo inspections by either the state or local health agency to ensure they're following all health and safety rules.
Fire Certificate – Because food trucks use equipment that could potentially catch fire, they must abide by standards mandated by the NFPA (National Fire Protection Association) and the fire and safety codes of the authorities having jurisdiction. In many areas, food trucks must undergo an inspection by the local fire department to receive approval to operate. Some jurisdictions also require that the operator has fire safety training.
Vehicle license – The food truck and its drivers must be properly licensed to operate in the state. Drivers may need a commercial driver's license if the food truck exceeds a particular length or weight.
Vehicle registration and insurance – Food trucks must be registered with the state's Department of Motor Vehicles and have the proper insurance coverage.
Parking permit – Zoning ordinances may restrict where food trucks can park. Some areas may be zoned as non-commercial, or there might be time limits in place, or restrictions on how close to other establishments food trucks may park.
Temporary use permit – Some jurisdictions may require this permit if operating a food truck at special events or for an occasion on private property.
The exact requirements will vary by state and local jurisdiction. Usually, licenses and permits need to be renewed. Besides obtaining the necessary licenses and permits to start a food truck business, stay up to date on the rules in your area. You'll want to stay abreast of any changes that may affect your operations and legal obligations. Also, be aware that food trucks that cross state, county, or municipal boundaries may need to obtain licenses and permits in multiple jurisdictions.
If all of this seems a bit overwhelming, I understand why! Cover all of your bases by checking with all state, county, and local licensing and permitting agencies for information about what requirements apply to your food truck business.
CorpNet is here as a resource, too, with our Business License Compliance package. We do the research to identify the licenses and permits you'll need and provide you with all the licensing requirements and forms.
9. Buy Your Food Truck, Equipment, and Supplies
What do you need to start a food truck business?
A food truck (a vehicle with its kitchen, cooking, and storage area combined in a motorized unit) or food trailer (a non-motorized unit pulled by a motorized vehicle) is likely to be the costliest expense when starting a mobile food business.
The costs of food trucks can vary quite a bit. New or used, size, equipment included, make and model, age, mileage, and condition all affect what you will pay. In addition to your food truck purchase or lease costs, you'll also have your license, registration, gas, and maintenance costs to consider.
Some considerations to think about when looking at food trucks for sale include:
Does the food truck is equipped with what you need and large enough to prepare all food onsite? If not, you will need to have an additional location to do supplementary prep work at a commercial kitchen or commissary location.
Does the food truck have ample food storage space available? If not, you'll need to lease additional space at a commercial kitchen or commissary and possibly need a food trailer to haul ingredients and supplies.
Will the food truck give you some room to grow? Is it designed to allow you to make enough of your menu items to meet growing product demand and high-volume events? If not, and you anticipate trying to grow your business, you may want to look at other models that will give you greater capacity.
Where can you find food trucks for purchase? Some resources to start your search include Commercial Truck Trader, Food Truck Empire, Roaming Hunger, Used Vending, and Craigslist.
Food trucks may come equipped with some of the appliances, tools, and supplies below. However, you will need to find suppliers for other items. Realize that this is not an exhaustive list of what your food truck business may need to have:
Refrigerators
Freezers
Ranges
Ovens
Fryers
Microwave
Broilers
Food warmers
Sinks
Exhaust fans
Prep tables
Food scale
Utensils, bowls, cutting boards, etc. for food preparation
Food storage containers
Food ingredients
Take-out plates, boxes, utensils
Napkins and paper towels
Hairnets
Gloves
Masks
Fire extinguisher
First aid kit
Generator
Carefully research suppliers to find those who are trustworthy, reliable, and cost-effective. Some online sources of food truck equipment and supplies are KaTom Restaurant Supply, Inc., Restaurant Equippers Warehouse Stores, and WebstaurantStore. You can even find a broad selection of supplies on Amazon.
You'll also want to find quality suppliers of the food ingredients you'll need to make your menu items. Talk with local restaurants and other food truck operators to find out which suppliers they recommend. Your local chamber of commerce may be able to suggest some local companies, as well. Keep in mind that there's a growing trend in the restaurant and mobile food industries toward sourcing local ingredients for menu offerings. Locally sourced produce, meats, and other ingredients may cost a little more, but often they have a freshness and flavor advantage. Moreover, they may make your food truck's offerings more attractive to customers drawn to the concept of supporting local growers and food producers.
Ultimately, know your audience and the price points your market will bear when considering the suppliers you'll do business with.
10. Decide How Will You Accept Payment From Customers
In today's fast-paced, customers want convenient and often contactless payment options when buying your products. A POS (point of sale) system equipped to handle cash, credit cards, and mobile payments (such as Apple Pay, Android Pay, and Samsung Pay) can provide flexibility and versatility.
Some POS systems to explore include Revel Systems, Square Point of Sale, Toast POS, and TouchBistro.
As you research POS systems, consider what functions in addition to payment processing you would like to have. Some POS systems also manage payroll, track inventory, sales, and expenses, and more. This blog post by Merchant Maverick offers some good food for thought about features to look for in a food truck POS system.
11. Get Business Insurance
The types of business insurance a food truck needs depend on the type of vehicle, the value of assets to be protected, equipment in the truck, operational frequency (e.g., seasonality and hours of operation), where the food truck will operate, and other factors.
Below are some of the types of insurance coverage food trucks and food trailers may need:
Commercial Vehicle Insurance – Generally, this covers costs in the event of collisions or other damages, such as theft or fire, to the vehicle. It may also provide coverage for some medical expenses related to accidents and have provisions to provide compensation if involved in an accident with an uninsured or underinsured driver.
Commercial General Liability Insurance – This coverage can help protect the business and its owner in the event of claims of injury or illness against the company (such as someone falling over the business's signage and spraining an ankle or food poisoning). It also provides coverage for property damage that's not vehicle related.
Commercial Property Insurance – This type of insurance covers the equipment and other property within the truck or trailer in the case of theft or collision.
Workers Compensation Insurance – Most states require business owners to obtain this insurance to cover lost wages, medical expenses, funeral costs, etc. for employees who were harmed due to work-related accidents or illnesses.
Unemployment Insurance – This federally mandated program temporarily replaces some of the wages that workers have lost if they were laid off or let go through no fault of their own. Employers pay into the FUTA (Federal Unemployment Insurance Act) program as part of their payroll taxes. The amount they pay is based on the employee's wages. No portion of FUTA is deducted from employees' paychecks. Many states also have a state unemployment insurance program known as SUI (State Unemployment Insurance)—or SUTA (State Unemployment Tax Act)—tax.
Business Interruption Insurance – If a disaster forces a food truck business to close temporarily, this type of policy helps pay for expenses and compensate for lost revenue. It's important to review these policies' provisions carefully. Some disasters, like pandemics, might not be covered.
Food Spoilage Coverage – This coverage helps food truck owners recover the costs of food and beverages that spoil under certain unforeseen circumstances, such as when equipment breaks down or in an extended power outage.
Food Contamination Coverage – Even with the most careful storage and handling by food truck employees, there's a risk that food ingredients may be contaminated with food-borne bacteria. Food contamination coverage may help reimburse lost income if the food truck must shut down temporarily. It might also cover the costs to replace contaminated food, deep cleaning of food truck's equipment and interior, medical testing of workers, and other expenses.
12. Hire Your Staff
Think of all the tasks involved when running a food truck. For example:
Prep ingredients
Take orders
Cook the food
Wrap or package the food
Take payments for the customers
Clean
Restock supplies
Run errands if you run out of change or need additional supplies while your food truck is open
Can you handle all of that on your own? If not, you'll probably have to seek some part-time help to operate your food truck. Most states define part-time workers as those on the payroll who work less than 35 hours per week. Part-time food truck workers are typically paid an hourly wage.
It's imperative to follow all of the laws that apply to hiring and employment practices. Job applications and interviews must follow all applicable hiring and anti-discrimination laws. Also, there are minimum wage and child labor laws. Food trucks often hire teens, and there are restrictions on the tasks they may be asked to perform and the number of hours they're allowed to work. An HR consultant can help ensure you handle the hiring process correctly and comply with requirements after adding workers to your payroll.
Employees are protected under the Fair Labor Standards Act and OSHA's safety and health policies, so it's essential to understand those rules. Also, employers should verify that new employees are legally eligible to work in the United States. The paperwork for that includes Form I-9, Employment Eligibility Verification, and a W-4 for tax withholding.
Food trucks that hire employees must also make sure they register for state payroll tax accounts. There are payroll-related taxes that the employer pays (FUTA, for example). Employers must withhold some taxes—such as State Unemployment Insurance Tax (SUI) and State Income Tax (SIT)—from employee paychecks. Although SUI is usually paid solely by the employer, it is also withheld from the worker's pay in some states. Federal income tax and FICA (Social Security and Medicare taxes) must also be withheld from workers' pay.
Employers must report any taxes withheld from employees' pay and then remit those funds to the appropriate tax agencies.
13. Determine Where You Will Park Your Food Truck
It's critical to research where your food truck may do business and where it can be parked when it's not in operation. Many cities and municipalities limit where food trucks may conduct business, how long they may remain in one place, and how close they may park to other establishments.
Besides determining where your food truck can be open for business, you'll also want to identify where you will have the best revenue potential. In other words, where are the hungry people!
Consider the following items when scouting a location for your truck:
Many food trucks rely on public events, festivals, and fairs as their sources of sales. Organizers of those gatherings can provide details about the hours, costs, parking arrangements, etc.
Some food trucks receive permission to park and sell their products at local businesses according to a specific daily or weekly schedule.
Other food trucks park in towns and cities to sell to the general public. Check with the local government to learn about where food trucks are permitted, whether you'll need to pay for a parking permit or lease a parking space, time restrictions, and other rules you'll need to follow.
Many food truck businesses now offer catering services, too.
When you're not operating your food truck, you'll need a safe, legal place to park it. Generally, most jurisdictions will allow food trucks to be parked on a public street or road overnight. However, they may be at increased risk of vandalism there. If you don't have enough space at your home or don't feel your food truck would be safe there, some other possible options for parking include paying for secure parking in a warehouse or in a business parking lot that has space available.
14. Market Your Food Truck Business
A lot goes into marketing a food truck, and it all begins with building a solid brand from the start. A food truck's logo, brand colors, and other design elements must be distinctive and inviting—and they must be consistent across all marketing and advertising media.
Vehicle wrap (the graphics displayed on the food truck)
Website
Social media (such as Facebook, Instagram, Twitter, Pinterest, Snapchat, TikTok)
Local search profiles like Google Business Profile and Bing Local
Menus
Flyers
Signs
How will you let people know about your food truck business? Word-of-mouth, although it sounds old-fashioned, still wields a lot of power and opportunity. That's why building relationships with customers and delivering a quality product and customer service experience are essential. Fortunately, social media provides a platform for generating word-of-mouth and exponentially expanding awareness of your business. The key is to maintain an active presence that makes customers want to follow your accounts and tune into where you'll be and what's on your menu. Maximize the potential of social media by posting a lot of visual content that tells and shows customers what they have to look forward to by visiting your food truck. Also, respond to comments and messages enthusiastically and promptly to build rapport with your followers.
15. Maintain Ongoing Compliance
Food trucks must stay current on all tax filings, reports, licenses, and other compliance requirements to keep in good standing with the IRS and the state and local governments. Failure to keep requirements up to date can result in losing personal liability protection, incurring fines and penalties, and suspension of operations. Attorneys and tax professionals can advise on what to do and when. Also, you can track upcoming reporting and filing deadlines by using CorpNet's free Compliance Portal.
Resources for Food Truck Entrepreneurs
Ready to Shift Your Business Dream Into Drive?
CorpNet is here to help you step on the gas! Find out if the business name you want to use for your food truck is available by using our Corporate Name Search tool. And, after you've talked with trusted legal and accounting professionals about which entity type will offer the most advantages to your company, save time and money by having our business filings experts handle the registration forms on your behalf. We handle many of the other startup and ongoing compliance filings, too. From serving as your registered agent to filing DBAs to identifying and obtaining business licenses and permits to payroll registration to annual reports and more, we will move your business dream forward.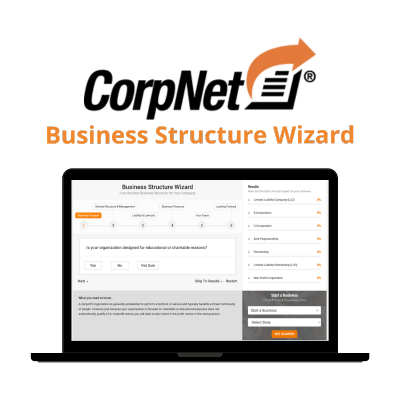 Choosing a business structure can be a tough decision for the new business owner. CorpNet wants to make the process easier.
This free, online tool helps small business owners navigate the process of picking the right business structure for their new business.
Sources and References:
"Beginner's Guide on How to Start a Food Truck." Zac's Hamburgers. https://zacsburgers.com/beginners-guide-on-how-to-start-a-food-truck. Accessed August 25, 2020.
Brophy, Meaghan (2019, May 21). "How to Start a Food Truck Business in 8 Steps." Fit Small Business. https://fitsmallbusiness.com/how-to-start-a-food-truck. Accessed August 25, 2020.
"FoodTruckr Business Plan Worksheet." FoodTruckr, LLC. https://foodtruckr.com/wp-content/uploads/2013/11/how-to-write-a-foodtruck-biz-plan.pdf. Accessed August 27, 2020.
"Food Trucks in the US." IBISWorld. https://www.ibisworld.com/industry-statistics/number-of-businesses/food-trucks-united-states. Accessed August 25, 2020.
"Food Truck Insurance: 101" (2017, October 27). FoodTruckEmpire.com. https://foodtruckempire.com/uncategorized/food-truck-insurance-101. Accessed August 26, 2020.
Kearns, Suzanne. "10-Step Plan for How to Start a Mobile Food Truck Business." Money Crashers.  https://www.moneycrashers.com/how-to-start-food-truck-business-plan. Accessed August 25, 2020.
Myrick, Richard. "Legalities of Moving Your Food Truck to Another State." Mobile Cuisine. https://mobile-cuisine.com/legal/legalities-of-moving-your-food-truck-to-another-state. Accessed August 27, 2020.
Peek, Sean (Updated 2020, June 19).  "How to Start a Food Truck Business." Business News Daily. https://www.businessnewsdaily.com/9237-how-to-start-food-truck-business.html. Accessed August 24, 2020.
"Survey Results: What is the Average Income for a Food Truck Vendor." FoodTruckEmpire.com. https://foodtruckempire.com/news/survey-income. Accessed August 26, 2020.
Wood, Meredith (Updated 2020, June 4). "Food Truck Financing: The Top 5 Options for Food Truck Loans." Fundera. https://www.fundera.com/business-loans/guides/food-truck-financing. Accessed August 25, 2020.