One of the challenges of running a home-based business is deciding what type of business to start in the first place! With so much to consider, where do you begin?
First, think about your definition of a home-based business. Do you define it as having your office and performing your work at your house? Or is it having an office at home but carrying out most of your work at another site or your customers' locations?
In this article, I'll focus on at-home business ideas that allow an entrepreneur to have their office and perform most of their work within their home. I'll also answer some frequently asked questions about starting and running a business from home.
The Good and the Bad of Running a Business From Home
First, let's look at some of the benefits and potential drawbacks of managing a business at home.
Advantages of running a home-based business:
No need to rent or buy office space
No commute, so it frees up time and minimizes vehicle fuel expenses
No dress code
Allows for a flexible work schedule (depending on the type of business)
Disadvantages of running a home-based business:
Some business owners find it difficult to set boundaries that allow them to turn off work and enjoy personal time. This can lead to burnout.
Zoning laws may prevent running a business on a residential property.
Entrepreneurs working from a home office sometimes find it difficult to concentrate. Distractions like undone household tasks or interruptions by friends, family members, and pets can quickly detail productivity.
My Favorite Home-Based Business Ideas
A home office is not ideal for every business venture, but it can work well for others, like those listed below. It's important to assess your interests, capabilities, and resources before launching any type of business. Finding a good fit is an essential success factor.
Affiliate Marketer
Many big-name companies offer affiliate marketing programs that give people an opportunity to earn income by spreading the word about their products and services. Typically, an affiliate gets a commission when someone purchases a product or service using the affiliate link the company running the affiliate program assigned them. Commission rates, guidelines for promoting a company's products, payment timelines, and other details vary depending on the program.
Learn more about affiliate marketing from industry veteran Pat Flynn.
Artisan
From pottery to candles to jewelry to woodworking and more, unique hand-crafted creations are attractive to people looking for unique gifts or distinctive items for themselves. Artisans can create their wares at home with the right tools, equipment, and supplies. However, selling them often involves attending events, such as art fairs and craft shows.
Learn more about selling your goods on Etsy.
Babysitter
Do you adore young children and want to provide a safe, comforting space while their parents are working or away? Then offering babysitting services in your home could be a fulfilling business. Check your state and local municipality's rules for limits on the number of unrelated children allowed in the home without a license. Other requirements and restrictions might also exist.
Take a babysitting course and become verified at the Red Cross.
Baker
If you're a master at crafting cookies, cakes, pies, bread, or other tasty treats, starting a home-based bakery might be appealing. Research your state and local government's home bakery laws first, though. Some areas have strict rules and various limitations.
Learn more about this career and training opportunity at the Culinary Institute of America.
Caterer
Starting a catering business can be a fulfilling choice for individuals with a flair for the culinary arts. If pursuing this idea, carefully research all licensing and permitting requirements. States' health department laws for preparing food in a home kitchen may be strict, licensing will be required, and local governments may have zoning rules and requirements for operating this type of business.
Learn more about starting a catering business at Auguste Escoffier School of Culinary Arts.
Dog Groomer
What could be better for an animal lover with hands-on creative skills than a dog-grooming business? States' rules for education, training, and licensing vary (some require none while others do), so wanna-be dog groomers must check the requirements that apply to them before shampooing and clipping commence.
Learn more and take a dog grooming course at QC Pet Studies.
Freelance Content Writer
Marketing writers help businesses with an array of projects — such as website content, email marketing copy, ad copy, social media content, press releases, newsletters, brochure copy, and more. Naturally, writing talent and some marketing knowledge is essential for succeeding in this type of business.
Learn more about becoming a freelancer copywriter from Jacob McMillen.
Music Instructor
Teaching voice or musical instrument lessons is another viable at-home business opportunity. While many schools provide lessons to budding musicians, students' parents often seek additional instruction to advance their children's skills. No college degree or certification is typically required to become a private music instructor. However, having a music education or performance degree can bolster the confidence of potential clients.
Learn more about music instructor career options at Zippia.
Personal Trainer
Fitness enthusiasts who would love to work with people and help them reach their wellness goals might consider starting a personal training business. This type of business might require some education (e.g., kinesiology, exercise science) and certifications (e.g., CPR, AED), and possibly professional licensing as a certified personal trainer.
Learn more about becoming a personal trainer at zengig.
Pet Sitter
When people go out of town for the weekend or leave for vacation, they want peace of mind that their furry friends are safe and loved. If you own your own home and want to open a pet-sitting business there, make sure to comply with any ordinances limiting the number of pets allowed on the premises or restricting certain breeds (Sadly not all municipalities are welcoming of pit bulls, Dobermans, Rottweilers, and other breeds).
Learn more about becoming a pet sitter with the National Association of Professional Pet Sitters certification course.
Resume Writer
When people are trying to land their dream job, their resume needs to stand out. A resume writing business focuses on presenting individuals' education and professional skills, background, and achievements in a compelling way to help ensure human resource departments take notice. It's essential to have strong writing skills. Also, for credibility, it can be helpful to obtain certification from a professional resume writing association.
Learn more about becoming a Nationally Certified Resume Writer at the National Resume Writers' Association.
SEO Consultant
Businesses of all sizes consult with independent contractors for SEO strategy development and execution. SEO services by knowledgeable professionals are in-demand as companies want to stay as competitive as possible in online search results. This field requires a solid understanding of how search engines work, a willingness to stay current on ever-changing algorithms, and proficiency in using SEO tools.
Learn what it takes to become an SEO consultant with industry expert Brian Dean.
Social Media Manager
Nearly every business has a social media presence across multiple platforms. Keeping those social accounts active and engaging with fresh content can be challenging for in-house staff. That's why many companies outsource their social media content creation and community management to social media professionals on a contract basis.
View HubSpot's 30+ resources for learning social media management.
Tax Preparer
Many people need assistance preparing their tax returns. Individuals who are math-savvy, well-informed about tax issues, and have obtained a Preparer Tax Identification Number (PTIN) from the IRS may find this business idea gratifying.
Learn how about starting at home tax preparation business from home.
Tutor
Individuals proficient in math, English, science, a foreign language, or another academic specialty might consider offering tutoring services to help students (or interested adults) improve their understanding and abilities.
Learn more about the certification options and requirements needed to become a tutor.
Virtual Assistant
Virtual assistants build their own businesses by filling voids for other businesses. They play an essential role by helping companies and busy professionals handle administrative and other tasks (monitoring emails, fielding calls, scheduling appointments, etc.).
Learn how to become a virtual assistant at Upwork.
Website Designer
Websites are critical marketing assets, and many businesses outsource their website creation to contractors. Website designers need creativity and an artistic eye; some basic knowledge of programming languages (HTML and CSS); an understanding of SEO fundamentals; and an understanding of templating in popular website platforms like WordPress, Squarespace, or Shopify.
Learn more about website design at the American Graphics Institute.
FAQs About Running a Business At Home
Can a home-based business be an LLC?
Absolutely! And it can be very advantageous — forming a Limited Liability Company helps protect the business owner's personal assets from the liabilities of the business. Business owners must follow their state's process for registering their LLC. All states require designating a registered agent in the state and submitting formation paperwork (usually called Articles of Organization). Other requirements can vary from state to state.
Do you need an EIN to operate a business from home?
It depends. If operating as a Sole Proprietorship or General Partnership without employees, an Employer Identification Number might not be required because the business is considered the same legal and tax-paying entity as the business owner(s). However, if a Sole Prop or General Partnership hires employees, it will need an EIN from the IRS for employment tax purposes.
Most LLCs and C Corporations need an EIN even if they don't have employees. Banks typically ask for the business entity's EIN when setting up a business bank account. Also, an EIN is required when applying for business licenses and permits.
Do you need an at-home business license?
Possibly. Home-based business license requirements vary depending on the state, town, and type of business or trade. Therefore, it's important to research the rules thoroughly at all levels.
License and permit examples for home based business include:
Sales tax permit
Cottage food license
Health permit
Sign permit
Resale permit
Zoning permit
Home occupation permit
Do you need insurance for a home-based business?
Business property insurance can provide peace of mind for at-home entrepreneurs as homeowners insurance policies may not cover — or provide limited coverage of — business property. Other examples of insurance to consider include general liability (protects from claims of bodily or personal injury to someone else or their property), professional liability (a.k.a. errors and omissions insurance), and business income insurance (a.k.a. business interruption insurance, which helps replace lost income in the event of property damage or loss).
Whether you need business insurance and what types you need will depend on a variety of factors. It's best to talk with a trusted, knowledgeable insurance agent to discuss which policies make the most sense for your situation.
How can you start a home business with no money?
Reality check: Starting a business will likely cost you something. But you can keep expenses low by running the business at home and choosing a business idea for which you already possess the required knowledge, skills, tools, and equipment. Also, using an online business filing service, like CorpNet, can help minimize the expense of preparing and submitting business filings to the state.
Do you need a lawyer and accountant to start your business?
While there's no requirement to work with a lawyer or accountant, I encourage it. Consulting with those licensed professionals can help you understand your tax responsibilities and how to start and run your home-based business legally.
Who can help you prepare and submit your business filings and applications if you're uneasy about handling them yourself?
My team at CorpNet has your back. From forming your business entity to applying for an EIN and researching business license requirements, we have you covered! We have handled tens of thousands of filings for clients in virtually every industry across the United States.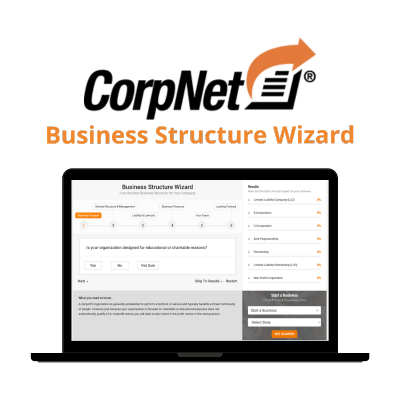 Choosing a business structure can be a tough decision for the new business owner. CorpNet wants to make the process easier.
This free, online tool helps small business owners navigate the process of picking the right business structure for their new business.